Parlevel Integrates With USG Order Center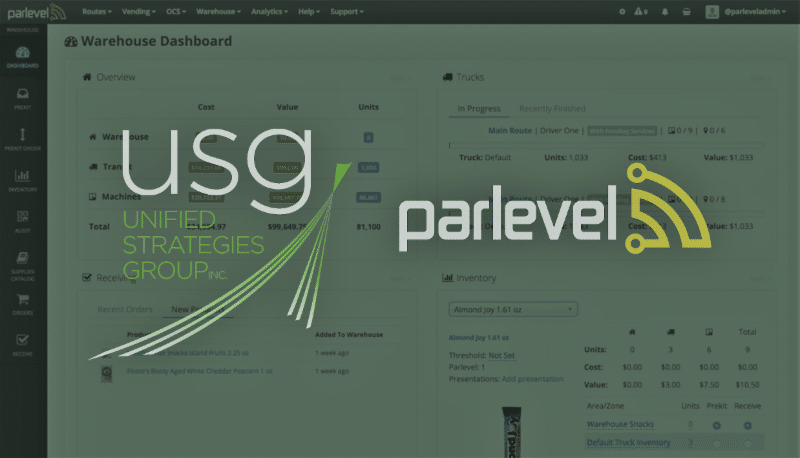 Parlevel Systems, the technology provider for vending, coffee, and micro market operators, announced an integration to Unified Strategies Group's (USG) order center. The integration syncs operational data from Parlevel's vending management system (VMS) with USG's order center. The integration provides a way for USG operators to maximize rebates and gain other member benefits.
Parlevel's integration with USG's order center occurs seamlessly inside Parlevel's VMS through the warehouse module. Once a USG operator orders inventory through the VMS, data is accrued and sent with one click to USG's order center for immediate delivery to the suppliers of the operator's choice. Operators no longer need to compile or export operational information manually, which results in significant time and financial savings.
"In the vending, office coffee and micro market industries, streamlined warehouse logistics often don't receive ample attention, but a quick and efficient warehouse operation helps operators optimize services and keep point-of-sales full," said Ashley Reno, software developer manager at Parlevel Systems. "With this integration, we aimed to eliminate significant time wasting activities and manual processes of on-boarding supplier data. We've accomplished our goal to make the ordering process extremely simple for the operator, who no longer needs to leave their VMS to successfully order with USG."
"This integration completes my vision of automated inventory replenishment," said Chris Stave, USG vice president of technology. "With the advent of micro markets, pantry service and enhanced OCS, operators are required to stock more items to satisfy consumer demand. The inventory process consumes more and more administrative time, thus making the use of this integration of two excellent software systems essential moving forward."
For more information visit: www.parlevelsystems
---

Vending Technology News | More News | Vending Newsletter sign up | Questions? Contact us | email press release |
Also see: Software Companies | Technology Companies | Micro Markets | Cashless Vending | Distributors | Classified Ads | Home |
VENDING YELLOW PAGES DIRECTORIES:
Call us at 1-800-956-8363 to POST YOUR COMPANY, or QUESTIONS?