Oranfresh High Tech Juice Vending Machines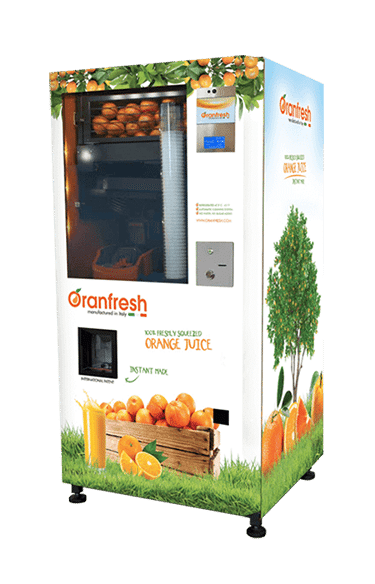 Freshly squeezed juice? Yes please, thanks to Oranfresh Juice Vending Machines.
This machine is the best-seller of the Oranfresh® range of products, and the leader among citrus juicers in the Vending sector. OR 130 has a good capacity and is very versatile. OR 130 is the hallmark of their technology, and is fully equipped with a telemetry system for remote control of the machines, a self-cleaning system, 7" LCD display with audio/video functions. It is reliable, strong, smart and with a backlit window, highlighting the Italian style. OR 130 represents the evolution of the first ever fresh orange juice vending machine in the world, invented by Oranfresh® in 1987. More than 30 years of experience packed in this machine!
All Orangefresh machines use the VSS – Vertical Squeezing System, a unique internationally patented system able to squeeze the oranges in a delicate way, separating the bitter oils of the peel from the juice, maximizing the yield and avoiding waste. Everything with the highest standard of cleanliness and hygiene.
How It Works:
The Oranges are inserted into the feeding arm.
They slide automatically one by one in the squeezing area.
Then they are cut in half and gently squeezed on the side of the peel.
The pulp exposed on a micro-perforated surface release the juice.
The juice is channeled and poured into the protected container and goes to the glass.
The spent peels are discharged into an easy-to-remove container.
About Oranfresh
Made by Italy-based Oranfresh, these juice vending machines are in demand around the world because most consumers associate juice with good health, and they are going to want to consume more juice daily, especially when they can conveniently enjoy juice from an Oranfresh machine.
Besides offering their consumers an easy and convenient way to enjoy fresh apple juice, orange juice, or their favorite combination juice, these vending machines also accept all forms of payment. Consumers can pay with any international currency, or form of payment that they have in their purse or wallet.
"Vending machines for freshly squeezed orange juice and other fresh fruits, even to take away. Offer your customers, wherever they are, a healthy alternative to the usual high calorie, carbonated, pasteurized drinks. A healthy snack, much appreciated by customers who are increasingly conscious to the diet and the quality. ORANFRESH – The Only Fully Certified freshly squeezed vending machine on the Market." – Orangefresh
To learn more about Oranfresh juice vending machines, visit their website at https://oranfresh.com, or email info@oranfresh.com.