OptConnect Develops Smart Embedded Modem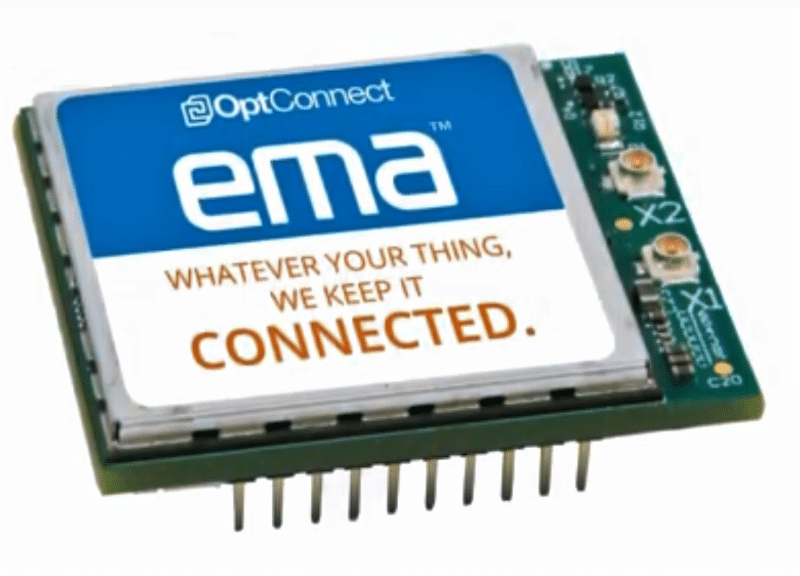 OptConnect has developed a smart embedded modem for IoT, OptConnect ema, a combination of a smart embedded modem plus fully managed services, marking the first "Connectivity-as-a-Service" offering in the IoT industry. The patent-pending ema builds on the company's managed services expertise to help operators to quickly and cost effectively deploy and scale IoT projects.
OptConnect's IoT managed services help customers across a range of industries, including vending, retail, energy, agriculture, healthcare and others, who need to embed cellular wireless connectivity into their solution without the trial and error, slower time to market and cost normally associated with typical IoT implementations.
OptConnect's solution includes 24/7/365 carrier monitoring and help desk with one-call resolution and service-level agreements on response time, multicarrier support, device and device management analytics, hardware warranties, IoT professional services and a wealth of other capabilities that help companies move their IoT projects to market quickly and cost effectively.
The introduction of ema delivers a seamless wireless experience without the cost and difficulty of developing low-level embedded wireless design. OptConnect's ema is a fully certified LTE Category 4 smart embedded modem with an optimized developed wireless application that supports multi-carrier connectivity and includes embedded applications for mission critical device management and managed services by OptConnect. ema has an onboard microcontroller with embedded firmware and software developed by OptConnect, providing plug-and-play functionality.
Features include:
A compact design to easily fit on a host board design, but with powerful capabilities, including fully certified PTCRB and full carrier certification and dual-carrier SIM on board.
Device management application right out of the box for firmware-over-the-air updates, power management and carrier failover.
The highest levels of security already baked in through AWS IoT Core.
"Other companies that develop embedded modems leave the customer to figure out the development, certification and management on their own," said Chris Baird, president and CEO, OptConnect. "Through our robust managed service offering, OptConnect can save them time, money and the headache and hassle that is usually experienced with typical IoT connectivity deployments."
For more information visit http://www.optconnect.com
---

Vending Technology News | More News | Vending Newsletter sign up | Questions? Contact us | email press release
Also see: Software Companies | Technology Companies | Micro Markets | Cashless Vending | Distributors | Classified Ads | Routes for sale | Vending Companies USA | Home |
VENDING YELLOW PAGES DIRECTORIES:
Call us at 1-800-956-8363, POST YOUR COMPANY, GET NEW BUSINESS!