On Track Innovations Offers OtiMetry Modular Smart Vending Solution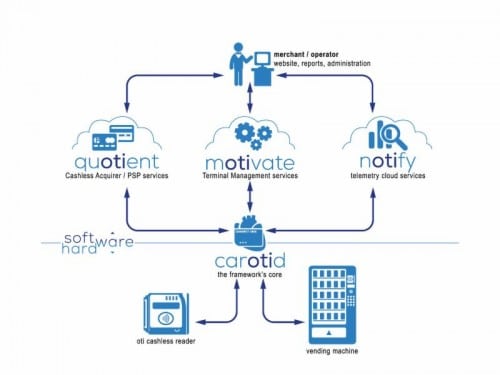 On Track Innovations Ltd., a global provider of near field communication (NFC) and cashless payment solutions, incorporates telemetry, sales, operations and marketing into its otiMetry, M2M solution with real-time management capabilities.
Application program interfaces (APIs) enable all payment, telemetry and terminal management functionalities. This includes a modular design that supports adding and removing binary modules; an embedded operating system; machine connectivity API including MDB, DEX and input/output; network connectivity API including 3G cellular and Ethernet; power management API including rechargeable battery backup; logging and error handling; and embedded real-time clock and calendar.
OTI's payment processor supports cashless and mobile payment using EMV-certified readers. The payment service provider offers a single payment gateway to multiple payment methods and acquirers.
The system's cloud-based control software allows notification partnered with third parties, vending operator business cycle management, and is compatible with more than 379 vending management models of 40 vending management manufacturers in 31 countries and 10 languages.
For more information visit: http://www.otiglobal.com/

---

| Home | Vending Technology News | More News | Vending Newsletter sign up | Questions? Contact us | email press release |


Also see: Software Companies | Technology Companies | Micro Markets | Distributors | Vending Classified Ads | Home |
VENDING YELLOW PAGES DIRECTORIES:
Call us at 1-800-956-8363 to POST YOUR COMPANY, or QUESTIONS?