Newco CX Touch Auto Eject Features 87 Preset Recipes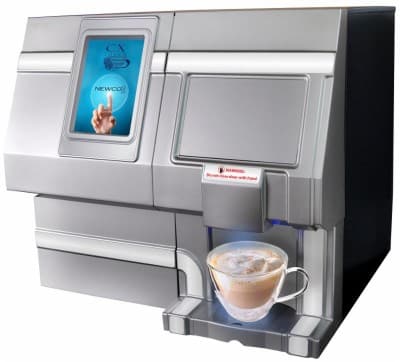 The CX Touch auto eject specialty drink machine from Newco provides coffees, lattes, cappuccinos and more. The machine blends soluble milk and chocolate with individual pods of coffee and tea to create coffee house quality beverages.
The user scrolls through the high-resolution touchscreen, selects a drink and inserts a pod. The drink is prepared in less than a minute.
Because individual portion pods are brewed in a paper filter, all the aroma and taste components are able to be extracted properly.
CX Touch uses 2-pound bulk hoppers for milk and chocolate which reduce the amount of waste without sacrificing drink quality. One 2-pound bag of milk and 2-pound bag of chocolate make the equivalent of approximately 75 milk and 50 individual chocolate capsules in other brewing systems.
The CX Touch includes 87 preset recipes. The three variable strengths and three cup sizes are included in most recipes. The recipes are preprogrammed and ready to use.
Selections include freshly-brewed coffee, espresso, caffe latte, cappuccino, mochaccino, caffe mocha, hot chocolate, hot tea, milk shots, and iced coffee and tea.
Customers can select loaded coffee art for the screensaver. There is also a custom sleep screen option.
For more information: http://www.newcocoffee.com/cxtouchdemo.htm, Phone: (800) 325.7867
By Elliot Maras
---

Vending Technology News | More News | Vending Newsletter sign up | Questions? Contact us | email press release |
Also see: Software Companies | Technology Companies | Micro Markets | Cashless Vending | Distributors | Classified Ads | Home |
VENDING YELLOW PAGES DIRECTORIES:
Call us at 1-800-956-8363 to POST YOUR COMPANY, or QUESTIONS?