Nayax Updates Monyx Wallet With Customer Engagement Options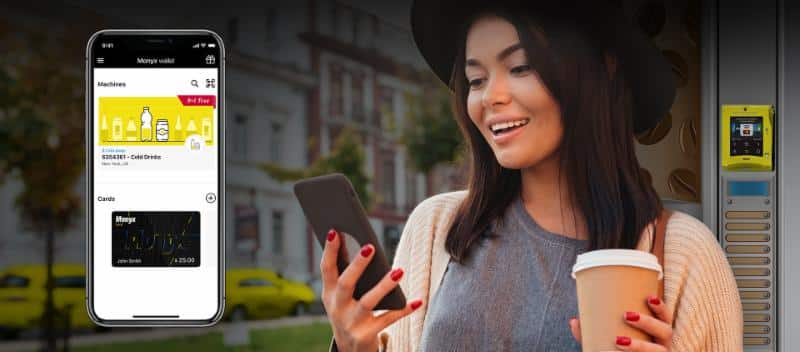 Nayax has released a new version of its Monyx Wallet to offer new customer engagement options. The platform enables digitization of retail marketing concepts, offering consumers engaging campaigns with rewarding saving opportunities.
Monyx Wallet gives consumers the option to pay with their phones at Nayax-integrated machines and opens payment up to those who aren't carrying cash. Consumers can use the app to track their purchases and also gain a host of loyalty benefits, including discounts, punch cards, cash back and bonus credit. These benefits can be applied to all sorts of unattended businesses including vending machines, kiosks, office coffee services, laundromats, amusement machines, kiddie rides and car washes.
Consumers can download the app for free at the PlayStore or via iTunes.
Operators can customize campaigns with Nayax's management suite and track each campaign's success. They can digitize their refund process, saving time and reducing operational costs. Closed-loop environments such as corporate workplaces, universities, hospitals or airports can also take advantage of Monyx Wallet's consumer engagement capabilities, associating employee cards with the app to offer staff discounts. Third-party loyalty apps can also benefit from Monyx Wallet's payment and engagement features via an SDK framework, which integrates Nayax's digital wallet capabilities into existing apps.
"For consumers at unattended machines the business owner is anonymous – Monyx Wallet's marketing tools help operators develop more of a relationship with their consumers, and support operators in promoting their business," said Yair Nechmad, CEO, Nayax. "By nurturing loyalty operators set themselves up for a future with consistent revenue."
For more information visit https://www.nayax.com/
---

Vending Technology News | More News | Vending Newsletter sign up | Questions? Contact us | email press release
Also see: Software Companies | Technology Companies | Micro Markets | Cashless Vending | Distributors | Classified Ads | Routes for sale | Vending Companies USA | Home |
VENDING YELLOW PAGES DIRECTORIES:
Call us at 1-800-956-8363, POST YOUR COMPANY