Nayax Predicts 30% Growth in Vending Profits Post-COVID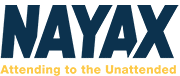 While COVID-19 will bring unseen changes to unattended retail such as vending, Nayax is confident that following the current crisis the use of unattended retail payment systems will help increase consumer traffic and grow a vending operator's profits up to 30%.
One thing Nayax says we can all agree on is that there will be an increase in the use of cashless payments in all facets of retail – attended and unattended, whether it be vending, self checkouts, kiosks, or other methods.
The additional profits and today's conditions make vending and unattended retail a viable competitor to traditional storefront retail with person-to-person close contact. And Nayax's specialized opportunities, such as customer loyalty programs, sales, discounts and other opportunities normally associated only with in-person retail, will help ensure repeat consumer traffic for vending operators, enabling them to compete with the store next door.
Vending machines are installed in multiple locations, and while many of those locations have decreased traffic now, such as airports, people will start to travel again, and, therefore, the economy can expect that these types of locations will recover relatively quickly. And as unattended and vending machine purchases inherently reduce person-to-person contact, vending purchases may very well increase in demand, especially when the use of credit card payments via Nayax terminals are available. Nayax devices are EMV chip card certified and enabled, but do not require touching a PIN pad, therefore eliminating the handling of germ-ridden cash.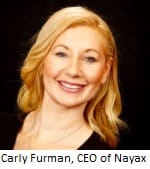 "The vending industry has been historically low risk, and I feel it will stay this way. Many of our customers, whether operating water refill stations, air/vac/unattended car wash bays at gas stations, laundromats or vending machines and kiosks in public/open/essential locations like hospitals and distribution warehouses are still operational. The ability to offer cashless payment capabilities encourages consumer confidence." Said Carly Furman, CEO of Nayax LLC.
"The promotional activities that Nayax has enabled us to deliver are transformative for our growth. With the loyalty programs we have seen our sales steadily go up and we're noticing more regular customers. We're really happy with the progress and view Nayax as a partner in our continued success," said James Smith of T Vend, a vending machine supplier in Europe.
"We see the cashless payment trend increasing, even while the crisis is happening, with a shift towards the use of contactless transactions," Furman continued.
Currently, and in the coming days post Corona, Nayax's main goal is to help operators with programs and solutions that will help them grow and overcome this business crisis. This will allow vending operators to recover faster and stronger, as people continue to prefer unattended retail, where available.
Through this crisis, Nayax is maintaining its operational and service capabilities. The company says its 24/7 monitoring service and payment schedules have worldwide coverage and are multi-site redundant to ensure businesses will not be harmed.
Nayax manufactures various cashless payment systems which can be retrofitted to existing machines. Devices from Nayax include VPOS Touch, for all cashless payment methods, VPOS Fusion integrating bill validators for cash and cashless payments, and Onyx for contactless payments only.
Among cashless payments Nayax systems can accept are credit card and debit cards and prepaid cards for environments such as an office, university or workplace. Systems accept mobile payments and bank wallets, QR codes or payment apps, and NFC mobile wallets like Apple Pay, Android Pay, Google Pay or Nayax's own Monyx Wallet.
Instant refunds are also available, with the use of Monyx Wallet, alleviating an operational headache for operators.
Nayax is continuing to monitor the COVID-19 situation and says it is taking all actions necessary to preserve stability for Nayax customers and prospects.
"While the pandemic is causing disruption around the world, and not to be taken lightly, we are confident in our BCP and our capabilities to deliver the best service possible," Furman said.
For more information visit www.nayax.com.
---

 Vending Technology News | More News | Vending Newsletter sign up | Questions? Contact us | email press release
Also see: Software Companies | Technology Companies | Micro Markets | Cashless Vending | Distributors | Classified Ads | Routes for sale | Vending Companies USA | Home |
VENDING YELLOW PAGES DIRECTORIES:
Call us at 1-800-956-8363, POST YOUR COMPANY, GET NEW BUSINESS!