NAMA Show April 24-26 In Las Vegas: Get Ready For A Wealth Of Technology Education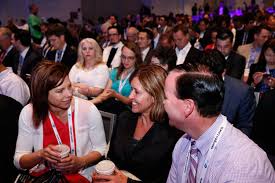 Technology continues to evolve in the vending and refreshment services industry, and convenience service operators will have a chance to get up to speed on critical topics at The NAMA Show April 24 to 26 at the Las Vegas Convention Center. Beginning with a pre-conference session on Tuesday, April 23, the technology educational sessions will continue through Thursday, covering everything from artificial intelligence to cloud hosting solutions to cashless solutions to logistics.
Session presenters include experts from technology providers as well as vending operators experienced in deploying the latest technology solutions.
On Tuesday, a half-day pre-conference workshop from 8:30 a.m. to noon led by Franki Chamaki, co-founder and chief operating officer at HIVERY, will uncover what AI is and what it encompasses, including data analytics, mining, deep learning and machine learning, so that operators can determine how best to deploy this game-changing technology.
The workshop, titled "Get Started with Artificial Intelligence in Your Organization," will include:
Defining what is AI and understanding the applications of AI in different forms.
Gaining data empathy – learning practical approaches to defining a business problem, building a team and proving commercial value through experimentation.
Understanding the best practices to prepare for operational deployment and monitoring.
Wednesday sessions begin with a presentation from 8:30 a.m. to 9:30 a.m. titled "Leveraging Technology to Increase ROI." Panelists include Hannah Davies, a customer project manager at Greenhithe Software Solutions in Auckland, New Zealand; Mike Ferguson, founder of VMAC Solutions, LLC and a former district manager at Canteen; John Hickey, co-founder of Tech 2 Success LLC, a cloud hosting provider of OptConnect connectivity; Bill Lockett, director of marketing for Vendsys/Nayax; Steve Crosby, director of fleet, facilities and vending operations for Company Kitchen; and Larry Greenwall, owner of Greenwall Vending in Poplar Bluff, Mo.
From 9:45 a.m. to 10:45 a.m., Evan Jarecki, co-founder and chief customer officer at Gimme Vending Inc., will speak on "The Tools You Need to Create Efficient Teams."
From 11 a.m. to noon, a panel of experts will address "Streamlining Office Logistics with Technology." Panelists will include: Anant Agrawal, executive vice president of corporate development at USA Technologies; Jared Detwiler, vice president of operations at One Source Office Refreshment Services, Inc. in Pottstown, Pa.; Duncan Smith, president and chief operating officer at All Star Services Inc. in Port Huron, Mich.; and Bradlee Whitson, operations manager, K&R Vending Services in Bridgeton, Mo.
The Wednesday keynote presentation from 1 p.m. to 2:30 p.m. will feature Mike Walsh, author of "The Dictionary of Dangerous Ideas" and founder and CEO of Tomorrow, a consumer innovation research lab, speaking on "Reinventing Leadership for the Age of Machine Intelligence."
On Thursday, from 8:30 a.m. to 10 a.m., a small operator round table will address technology issues, moderated by Scott Meskin, a veteran vending operator who is now the vice president of strategic business innovations at Vagabond Vending, LLC.
Facilitators will include: Ben White, an implementation specialist at Crane Connectivity Solutions; Juan Jorquera, CRO and co-founder of Vagabond Vending, LLC; Duncan Smith, president and COO of All Star Services, Inc. in Port Huron, Mich.; and Jared Detwiler, vice president of operations at One Source Office Refreshments in Pottstown, Pa.
From 11 a.m. to noon, a presentation will be made on the trade show floor on an MSU research study on cashless payments in the U.S. by Jim Turner, vice president of cashless deployment services at USA Technologies Inc. and Dr. Michael McCall, NAMA endowed professor of hospitality business at the Eli Broad School of Business at MSU.
From 3 p.m. to 4 p.m., another show floor presentation will be presented on leveraging AI to make better business decisions by Matthew Robards, co-founder and data Scientist at HIVERY and by Sharyn Kolstad, U.S. business development manager at HIVERY.
For more information visit https://www.namanow.org/events/thenamashow/
By Jeff Adair, Editor
---

Vending Technology News | More News | Vending Newsletter sign up | Questions? Contact us | email press release
Also see: Software Companies | Technology Companies | Micro Markets | Cashless Vending | Distributors | Classified Ads | Routes for sale | Vending Companies USA | Home |
VENDING YELLOW PAGES DIRECTORIES:
Call us at 1-800-956-8363, POST YOUR COMPANY