NAMA Convention Report: Operators Describe Best Operating Practices For Micro Markets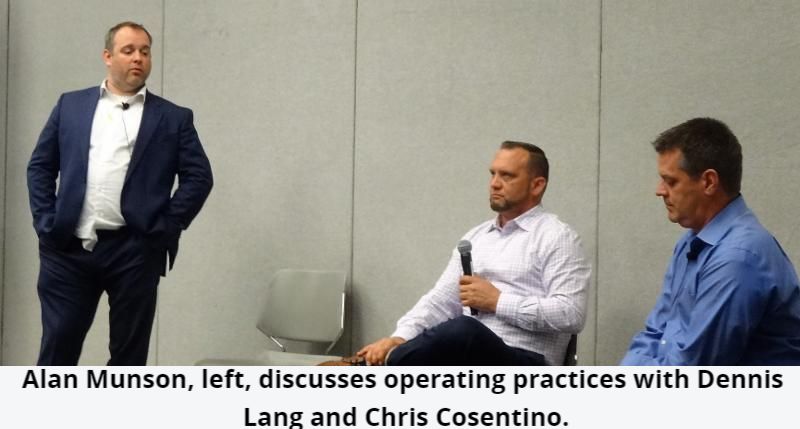 Micro markets have given new life to the convenience services industry since their introduction in 2006, offering customers more choices and a more enjoyable buying experience, while allowing service providers to earn more revenue with a lower upfront investment than a vending machine bank.
But being able to offer more product variety has required a new set of operating practices for vending operators expanding into micro markets.
During the National Automatic Merchandising Association show at the Las Vegas Convention Center, attendees received some excellent guidance in successful micro market practices from a pair of veteran operators – Chis Cosentino, manager of Take A Break Vending in Escondido, Calif. and Dennis Lang, owner of NWA Fresh Vending &
Micro Markets in Rogers, Ark. Alan Munson, chief commercial officer of Parlevel Systems, moderated the session.
The number one reason for expanding into micro markets is food, the most challenging product segment for vending operators, Cosentino said. Where the food presentation in vending is constrained by the waste factor, package size restraints and a generally unfavorable customer perception, the micro market enables a significantly greater variety of food without package size and price restraints.
Both panelists said they offer many high-priced items in their micro markets. In some cases, Cosentino said, products sell better at a higher price due to perceived higher quality.
Lang said he learned through trial and error how many food products to offer. He provides seven to 10 rotating fresh food SKUs per week, sourcing the products from a local caterer and from Einstein Bros Bagels.
Merchandising micro markets is more challenging than vending, the panelists agreed. Cosentino said he hired a micro market manager who brought experience managing a retail store.
Both operators have been able to use their vending management software for managing their micro markets.
While most micro market providers have their own software, Lang said it did not make sense to use two software systems for vending and micro markets. Lang said he adjusts his micro market planograms every four to six weeks based on an optimization report his VMS provides.
Employee theft has been an issue for micro market operators. To address this, Lang said he tries to work with white collar accounts that are  willing to help him address employee theft should it occur. Cosentino said he steers clear of accounts with a lot of temporary workers.
For serving secondary break areas with fewer employees, Cosentino places vending machines. In some cases, he places a cooler that employees can purchase products using a mobile app.
Attracting customers for micro markets has not been an issue for Cosentino. He said his website delivers five to 10 customer inquiries per month, and he has not had to solicit business.
While micro markets have been available since 2006, many accounts are still not familiar with how they work, requiring operators to educate them.
Cosentino said he sometimes lets a prospective account have a self checkout kiosk to experiment with before making a decision to have a micro market.
Operators typically discuss Internet connectivity requirements, the length of the service agreement, the product mix and how employee theft will be handled, should it occur.
Cosentino said he asks for a 5-year service agreement, but will accept a 2-year agreement. Some accounts, however, do not want service agreements.
Both operators said they hold "grand openings" for new accounts, during which they provide product samples and explain how to purchase products.
Cosentino said he provides discounts while Lang said he loads $2 to each employee's stored value account. Both said it is important to offer cash payment.
By Jeff Adair, Editor
---

Vending Technology News | More News | Vending Newsletter sign up | Questions? Contact us | email press release
Also see: Software Companies | Technology Companies | Micro Markets | Cashless Vending | Distributors | Classified Ads | Routes for sale | Vending Companies USA | Home |
VENDING YELLOW PAGES DIRECTORIES:
Call us at 1-800-956-8363, POST YOUR COMPANY, GET NEW BUSINESS!