Micro Markets Prove A Game Changer For Fourth-Generation Minnesota Operation
Micro markets have proven a game changer for A.H. Hermel Vending in Mankato, Minn., a Canteen franchise with 25 vending routes. The fourth-generation company, which also has an extensive foodservice distribution arm, found micro markets a revenue booster when the core vending business faced decline in recent years.
The company began looking at micro markets when the kiosks first came on the scene 10 years ago.
"The technology just wasn't there yet as far as scanners and systems to manage inventory," said Blake Hermel, president. But over time, the systems improved. The company installed its first micro market five years ago, and today it has 50 micro markets. "The technology was there; it was ready, and our customers really liked it," Hermel said.
The company's managers assessed the pros and cons of the different systems, ultimately selecting the 365 Retail Markets system.
"They've taken care of us; we've had a good relationship with them," Hermel said.
The company operates some Company Kitchen markets in accounts that Company Kitchen secured.
Micro Markets Boost Sales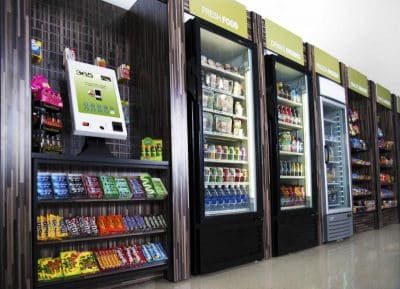 Once they deployed a few micro markets five years ago, the markets delivered a 15 to 20 percent average increase in sales over the vending banks. This was important in light of the fact that carbonated soft drink sales were declining overall.
"We were willing to try to do anything to get our same store sales to increase," Hermel said. "Micro markets just seemed like a simple solution." Which is not to say that the execution is simple, he said, as the technology is complex.
"It's a refreshing way to increase our current business volume," he said.
Being a Canteen franchise, the Hermel team was able to get input from other Canteen franchisees on what types of accounts to place micro markets in. They focused on white collar environments.
"It's best to put a micro market in a place where they (the customers) value their position with the company," Hermel said. It was important to be aware of what type of location to approach about a micro market.
The company recently replaced its last manual cafeteria account with a micro market.
"We went through our whole account list and set up a yearly budget what we wanted to spend," he said. "You're basically reinvesting in the account. We bought the vending machines, say five years ago, and now you're having to buy again, the kiosks and the coolers."
Redeploying Vending Machines

Removing vending machines from some of the better accounts allowed the company to upgrade the equipment in some second tier accounts.
"We used the opportunity to pull vending machines and upgrade some slower locations that maybe had some older pieces of equipment," he said. "We replaced it with the newer equipment."
The micro markets, which are serviced daily, have required some additional investment beyond the micro market equipment itself.
A New Management Role

The company hired a micro market specialist to maintain the micro market data bases, oversee installations and oversee performance. This technology savvy employee was promoted from within.
"We found that was extremely valuable," Hermel said. "You have to have someone on your staff who is able, willing and ready to deploy to fix issues. The traditional vending machine mechanic used to working on compressors and bill validators may not be up to the challenge of managing a kiosk."
Combined Vending/Micro Market Routes

The company was already prekitting its vending routes using Crane Streamware management software when it introduced micro markets. Hermel has opted to operate combined vending and micro market routes.
The company is keeping an eye on the 365 Retail nanomarket, a tablet-based device for smaller populations that is designed to allow operators to expand into locations that were previously cost prohibitive. The nanomarket touchscreen affixes to a countertop.
Hermel thinks the nanomarket could be a solution for accounts doing under $50,000 a year.
"I'm intrigued; I'm sure it will be the next spurt of growth for us," he said. "The biggest issue is combatting the theft."
The company also has an ATM route and seven foodservice distribution routes that also carry OCS products. The foodservice distribution business does about $33 million in annual sales while the vending division does around $16 million.

---

Vending Technology News | More News | Vending Newsletter sign up | Questions? Contact us | email press release |
Also see: Software Companies | Technology Companies | Micro Markets | Cashless Vending | Distributors | Classified Ads | Home |
VENDING YELLOW PAGES DIRECTORIES:
Call us at 1-800-956-8363 to POST YOUR COMPANY, or QUESTIONS?