Micro Market Pioneer Ray Friedrich Introduces Self Order Kiosks For Manual Feeding, Boosting Productivity And ROI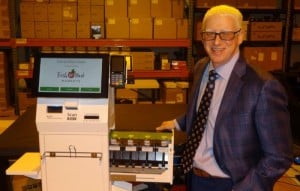 Micro markets have given new life to refreshment services over the last several years. They have allowed vending operators to offer more product variety with an upfront investment that in many cases is less than that of a vending bank.
Micro markets have also played a role improving manual feeding in corporate cafeterias. Customers can pick up orders at the food counter and pay for them by scanning the packages at a micro market payment kiosk. In some cases, the micro market has eliminated the need for a cashier.
A newly developed kiosk from startup Digital Checkouts now allows patrons to place and pay for orders in advance, eliminating the need to pay at the kiosk after picking up the order. This improves the speed of service and removes the need for the servers to attach bar codes to orders.
Ray Friedrich, CEO of Sterling Services Inc., a Canton, Mich.-based refreshment services company, has spearheaded the development of self order kiosks and has deployed them in several industrial cafeterias. He claims the self order kiosks allow patrons to be served faster and significantly improves the economics of a manual feeding operation.
Friedrich believes the new kiosks will do for manual feeding what micro markets have done for vending.
A Technology Pioneer

Friedrich was one of the first vending operators to introduce micro markets more than 10 years ago.
The new self order kiosk allows patrons to place and pay for orders online or at a kiosk, then pick up their freshly-prepared orders at the counter. The food is prepared in a nearby kitchen before being moved to the serving counter.
There is no need for patrons to place orders at the counter, wait for the order and pay at the cashier.
After a patron places an order, the order appears on a digital screen at the food counter. The preparer assembles the order, then taps the screen and it appears on another screen notifying patrons it is ready.
The patrons can also get packaged products like snacks and beverages in the cafeteria and pay by scanning them at the kiosk.
Friedrich claims the system has significantly changed the economics of manual feeding. He says the Digital Checkouts kiosk will yield a one-year return on investment, compared to a three-year return from a micro market kiosk without the self order capability.
He has deployed the system in eight of the 26 manual feeding locations he operates.
Friedrich says he has been able to profitably service an industrial location with 800 employees. Without the self order kiosk, he would not have considered providing manual feeding in a location with less than 1,000 to 1,200 people.
A few refreshment service operators on the East Coast have taken orders for the new kiosk, Friedrich said. He did not wish to reveal who they are.
The Quest Begins
The idea for the self order kiosk began five years ago shortly after Friedrich hired Jim Bishop as his chief technology officer. Friedrich hired Bishop to assist Sterling Services with its technology.
Sterling Services was one of the first refreshment service operations to introduce micro markets, and there were some technical issues with some of the first micro markets.
Bishop developed a kiosk that integrates self checkout, self order and point-of-sale functions. After one year, he was able to launch a new company, Digital Checkouts, with funding from a group of investors.
The Digital Checkouts team developed software that allows the kiosk to switch into self checkout and self order modes. It can also be used by a cashier, should the need arise.
Customers can pay using payment card, stored value or cash. The kiosk can give back cash and coin.
Bishop worked with iConnect, a POS system provider, to design the software. Flextronics, an equipment manufacturer, provided the hardware.
Roush Industries will be providing the hardware for future models, Bishop said.
For more information visit www.digitalcheckouts.com, Phone: 1-844-201-4121, info@digitalcheckouts.com.
---

Vending Technology News | More News | Vending Newsletter sign up | Questions? Contact us | email press release |
Also see: Software Companies | Technology Companies | Micro Markets | Cashless Vending | Distributors | Classified Ads | Home |
VENDING YELLOW PAGES DIRECTORIES:
Call us at 1-800-956-8363 to POST YOUR COMPANY, or QUESTIONS?