Masterpass Teams With PayRange On Free Credit Offer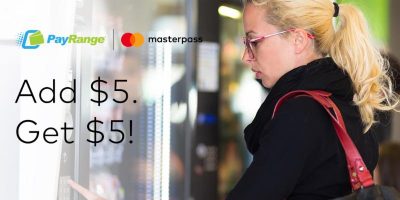 PayRange, a mobile solutions provider for vending and other self-service machines, has teamed with Masterpass, a digital wallet app from Mastercard, to allow U.S. PayRange users to receive up to $15 worth of free credit.
Consumers can install the PayRange app to make purchases from vending machines. The customer can swipe their smartphone's screen to complete the purchase. PayRange and Mastercard began partnering on Masterpass in 2017.
Beginning on March 1, 2018, the companies will offer "fund $5 with Masterpass and get $5." For a limited time, U.S. customers who use Masterpass to fund their PayRange account with $5 or more will automatically receive a $5 bonus credit.
Customers can take advantage of the special offer three times, totaling $15 of free credit to spend at vending machines. The program will be for a limited time period.
For more information to learn about the campaign visit https://www.payrange.com/masterpass

---

Vending Technology News | More News | Vending Newsletter sign up | Questions? Contact us | email press release |
Also see: Software Companies | Technology Companies | Micro Markets | Cashless Vending | Distributors | Classified Ads | Home |
VENDING YELLOW PAGES DIRECTORIES:
Call us at 1-800-956-8363 to POST YOUR COMPANY, or QUESTIONS?