MagTek Card Reader Authenticator Adds Identification And Payment Options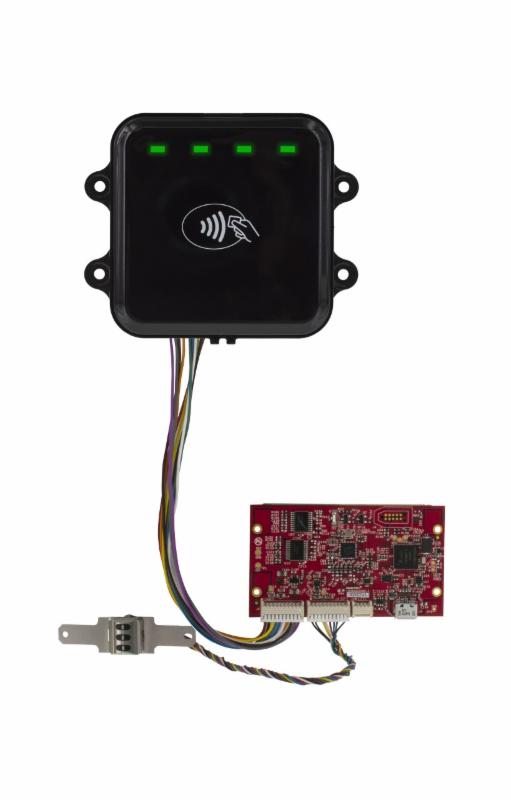 The MagTek mDynamo is an EMV module that connects via USB with two optional auxiliary ports, SPI and UART, giving users the flexibility to add a variety of identification and payment acceptance options in a compact, modular design.
The small form factor makes it easy to integrate into new or existing unattended locations, including vending machines, kiosks, parking or payment terminals. It represents a solution for mobile payment applications involving tablets and phones to accept payments almost anywhere.
The card reading module is easy to incorporate into an enclosure and retrofits into other MagTek insertion-style reader bezels or phone and tablet enclosures. The mDynamo is designed to save the integration designer money in a single, low-cost, yet secure device.
Using an updated bezel, the mDynamo can be added to a new design or retrofitted to an existing insertion style magstripe reader. The chip card reader and optional NFC module are certified for EMV L1 and L2. MagTek offers a variety of software developer kits (SDKs).
The mDynamo is designed to read contact chip cards that conform to ISO 7816 standards with a modular design to connect both an optional magstripe reader/SCRA and contactless/NFC module. The board is designed for a compact footprint while offering easily accessible SPI and UART ports with Molex connectors.
The mDynamo is built on the MagneSafeTM Security Architecture which uses 3DES encryption and DUKPT key management to protect magstripe, EMV chip (contact), and NFC (contactless) card data. As an additional layer of security for magnetic stripe transactions, MagnePrint authentication and Magensa Services can be used to stop fraud by identifying counterfeit or altered magnetic stripe data in real-time.
For more information visit: https://www.magtek.com/
---

Vending Technology News | More News | Vending Newsletter sign up | Questions? Contact us | email press release |
Also see: Software Companies | Technology Companies | Micro Markets | Cashless Vending | Distributors | Classified Ads | Home |
VENDING YELLOW PAGES DIRECTORIES:
Call us at 1-800-956-8363 to POST YOUR COMPANY, or QUESTIONS?