Looking To Leverage Technology? How To Prepare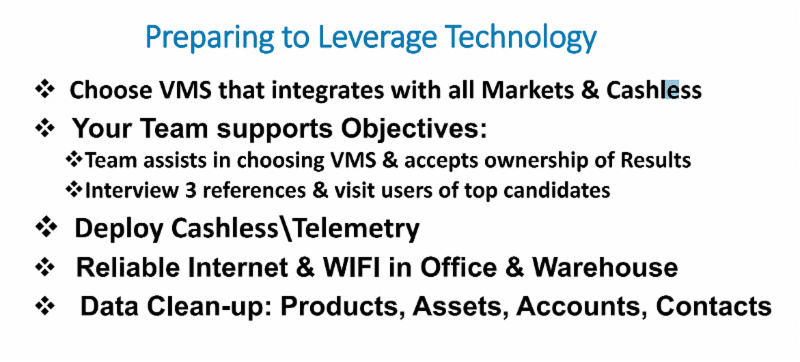 With the introduction of cashless transactions, remote machine monitoring, dynamic routing and automated warehouse picking, the vending business has changed dramatically. And while many veteran operators agree that today's technologies are imperative to be successful, leveraging these technologies remains a challenge for many operators. Technologies bring new efficiencies and can significantly improve customer service, but they also require significant investments.
During the recent National Automatic Merchandising Association show at the Las Vegas Convention Center, Bill Lockett, director of sales and marketing at Vendsys, a vending software provider owned by Nayax, a provider of cashless and telemetry solutions for unattended payments, gave an overview on preparing to leverage technology.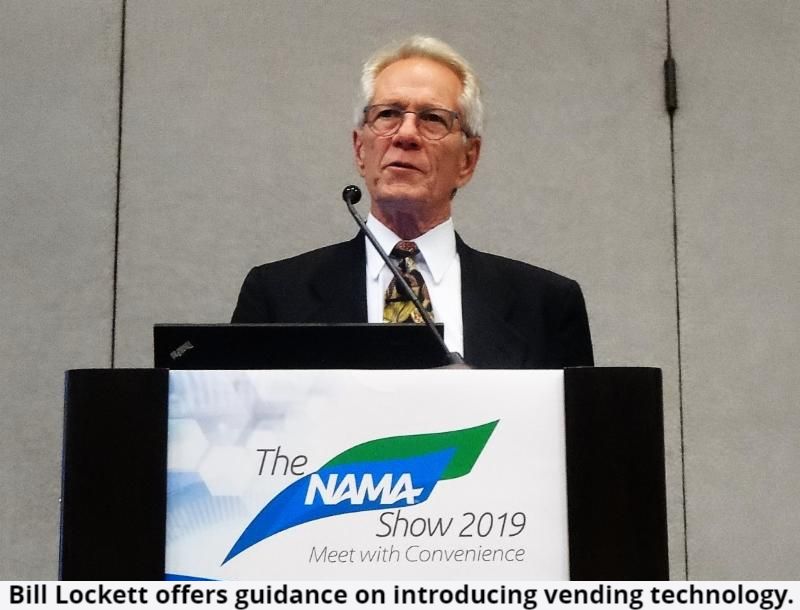 Lockett began by showing a diagram demonstrating optimum sales per service goals for standard vending machines without the benefit of vending management software or remote machine monitoring.
Without these technologies, the sales per service goal for many machines is 25 percent of the machine's retail par level, he said. A 6-wide snack machine with a par level of $579, for example, has a sales per service goal of $145.
With technology, Lockett said an operator can raise the sales per service goal from 25 percent to 40 percent and more. He said most operators should be able to reduce service time by 15 to 20 percent and be able to expand their business by 30 percent.
For most operators, the first technology investment is vending management software (VMS). Lockett noted  operators using both vending machines and micro markets should select a VMS that integrates with both the vending machines and the micro markets. "Micro markets are totally taking over the whole industry," he said. "We're totally changing the model."
In selecting a VMS, Lockett suggested interviewing three references and visiting companies using the VMS systems they are considering.
"There is no VMS that is 'plug and play,'" he said.
Once the VMS has been introduced, the company should determine which machines should be equipped with cashless readers and remote monitoring telemetry. Telemetry, which provides the connectivity for cashless readers and remote machine monitoring, makes the most sense for the slow selling machines, he said.
To utilize telemetry, it is necessary to make sure there is reliable internet connectivity in the warehouse and the company office, he said. It is also important to make sure all relevant data about products, assets and accounts is up to date.
Telemetry will allow the company to schedule service based on sales activity as opposed to having static routes, Lockett said. "Most operators over service the machines," he said.
The telemetry should be introduced one route at a time, he said. There should be one route supervisor and one administrator involved in introducing telemetry to the first route, a process that should be given 30 to 60 days. Once the first route is operating, additional routes can be added every one or two weeks.
Lockett also stressed the importance of having a staff that is committed to deploying the technology. "It's all about do you have the people to focus," he said.
Technology can allow a company to consolidate routes to service twice as many machines, Lockett said. A consolidated route can service 160 to 200 machines in a 60- to 75-mile radius, he said, generating $16,000 to $25,000 in sales per week, depending on drive time and employee motivation.
Once the technology has been introduced to the routes, the next step is to introduce pre-kitting to the warehouse, he said. Pre-kitting further improves route efficiency.
Once the technology has been deployed, the company should advise accounts they are providing more product selection and overall better service, Lockett said. He added that remote machine monitoring allows for timely alerts about malfunctions and product sellouts.
By Jeff Adair, Editor
---

Vending Technology News | More News | Vending Newsletter sign up | Questions? Contact us | email press release
Also see: Software Companies | Technology Companies | Micro Markets | Cashless Vending | Distributors | Classified Ads | Routes for sale | Vending Companies USA | Home |
VENDING YELLOW PAGES DIRECTORIES:
Call us at 1-800-956-8363, POST YOUR COMPANY, GET NEW BUSINESS!