Keurig Commercial Unveils Touchless Brewing System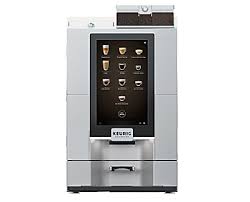 Coffee will always be the top beverage that's consumed in most offices in the United States, but since the start of the pandemic, many Americans have modified how they consume coffee in the office.
Capitalizing on new consumption trends, Keurig Commercial is unveiling a touchless system that makes it possible for consumers to make coffee or tea remotely without touching the machine.
How Does It Work?
To enable the touchless process, consumers first download the Keurig Brew app to their mobile device. When a consumer is ready to have the touchless brewing system make their coffee, all they have to do is place their coffee cup on the Keurig machine, scan a QR code, then choose the type of coffee that they want the machine to make.
After placing their order, the touchless brewing system will make the consumer's coffee to their specific requirements. After the machine is finished all the consumer has to do is pick up their cup and walk away without having to touch the machine.
"Coffee is a valued workplace amenity, and businesses are facing new challenges as they bring their employees back to the office and re-open breakrooms," said Phil Drapeau, senior vp, away-from-home, for Keurig. 
Touchless Brewing is Here to Stay
With the global Covid-19 pandemic stretching into its second year, the reality is that touchless brewing is here to stay. For OCS, touchless brewing means that offices can have safe, hygienic coffee makers that everyone in the office can use.
Besides its new touchless brewing system, Keurig Commercial has also released a safe brewing tool kit that contains floor decals for social distancing and brewer signage which helps to encourage safe and sanitary coffee habits in the office.
To learn more about Keurig's safe brewing coffee system, visit their website at https://commercial.keurig.com