Kellogg's And Chowbotics Partner To Create Cereal Dispensing Robot
A cereal dispensing robot? Yes, please!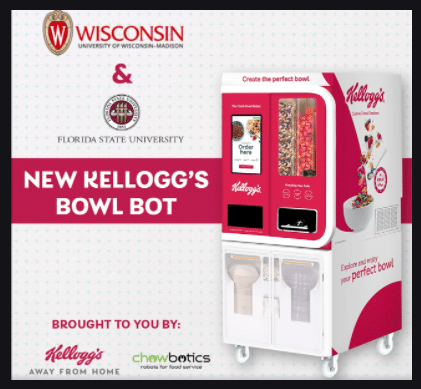 Thanks to the recent partnership with Kellogg's and Chowbotics, students at Florida State, and Wisconsin-Madison (UW-Madison) Universities, now have cereal dispensing robots on their campuses that they can use to have easy access to their favorite cereals 24-7. 
These cereal dispensing bots will work in conjunction with on-campus food services at either university, to give students expanded dining options.
Even though these cereal dispensing bots are cool, what's even better is that these bots give students the ability to mix their favorite cereals, instead of just getting stuck with one of the iconic Kellogg's favorites.
This means that instead of just having a bowl of Frosted Flakes or Froot Loops, students can mix their favorite brands of cereals and enjoy cereal that's never boring.
How Are The Orders Placed?
Since most students carry a smartphone these days, they can easily place their orders through the Chowbotics app, or by the touchscreen on the cereal dispending bot.
Besides just being a cereal dispensing bot, Kellogg's and Chowbotic's have taken their partnership a step further by giving their bots the ability to dispense cereal bowls with a wide variety of milk and yogurt combinations, including toppings like seeds and nuts.
Prices range from $2.99 to $6.50 per bowl but the cereal dispensing bots will give parents peace of mind that their kids are eating well even while they are working hard, hitting the books.
Chowbotic's has a long distinguished history of providing salad dispensing bots nationwide, with their 'Sally The Robot Technology', so their partnership with Kellogg's was a win-win for all involved.
Students who order a cereal bowl from a Chowbotic machine can have peace of mind in knowing that their cereal will taste as fresh and delicious as it did back home because the bots also offer technology that keeps ingredients fresh.
Learn More
For more information about Kellogg's and Chowbotic's cereal dispensing machine, visit the https://www.chowbotics.com.