JCM Global Introduces Fuzion, Providing New Capabilities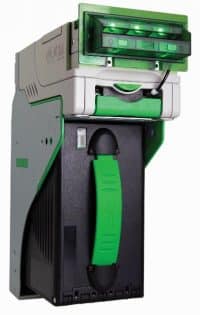 JCM Global's newly introduced Fuzion, when paired with the company's iVizion bill validator and Gen5 printer, unleashes several new capabilities. These include conducting cross promotional couponing, vending and redeeming lottery and betting tickets, and allowing currency exchanges that can be preset or in real time.
The system also can streamline tax forms processes by printing system-generated tax forms and delivering the required documentation to the customer while the back-end system stores the signature forms and data that needs to be delivered to the IRS.
Powering Fuzion is the iVizion bill validator which scans the entire note or ticket, reading more than 9.5 million data points on every note. The validator has the capability to read 2D barcodes, and its intelligent bezel enables mobile connection for additional Fuzion functionality.
Fuzion's capabilities come to life when paired with the company's Gen5 printer, which builds on the Gen platform and has a faster CPU and faster print speed, resulting in faster customer connections. It has the flexibility to print promotional tickets, plus templated promotional coupons.
Fuzion integrates with JCM's ICB 3.0 drop management system, providing real-time health monitoring data and predictive drop and maintenance scheduling to increase operational efficiency.
For more information visit: http://jcmglobal.com/

---

Vending Technology News | More News | Vending Newsletter sign up | Questions? Contact us | email press release |
Also see: Software Companies | Technology Companies | Micro Markets | Cashless Vending | Distributors | Classified Ads | Home |
VENDING YELLOW PAGES DIRECTORIES:
Call us at 1-800-956-8363 to POST YOUR COMPANY, or QUESTIONS?