IVM Vending Machines Enable Consumers to Buy the Computer Accessories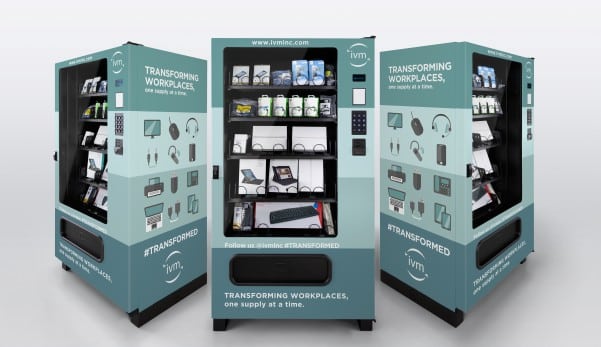 In 2020, most consumers can buy just about anything that they need from vending machines so it makes sense for them to also have the ability to buy tablets, computer mice, and other products directly from a vending machine as well.  
Thanks to the latest IVM vending machines, consumers can now purchase the computer supplies that they need from a vending machine without having to drive to a computer store nearby. 
Saves Time and Improves Efficiency 
IVM vending machines are particularly handy if placed in large corporations that have over 100,000 employees because they make it easy for employees to get the products that they need while staying on campus. These vending machines also relive the strain on IT departments and free up IT employee's time so they can focus on service–orientated tasks.  
These days it's not uncommon for most people to have experience using vending machines so it makes sense for a large corporation to offer their employees vending machines with the products that they need because self-serve vending machines put the products that employees need in their hands right away. 
Companies like Logitech and Facebook have been using vending machines for years to put the products that their employees use into their hands quickly and easily.  
More Than Just Traditional Vending Machines 
Besides creating vending machines so that tech companies can offer their products directly to the end–user, IVM also specializes in creating storage lockers that companies can use to stock the supplies that their employees need in one convenient location. 
When people need to access those supplies, all they will need to do is swipe their employee badge or type in a code.  
After employees pick up those products, IVM's software will track the inventory and provide company managers with the ability to see which supplies are being used and restock supplies when needed. This new way of distributing supplies can also help companies see what inventory is being used and the departments that should be charged for that inventory. 
Their locker and vending solutions can also be utilized on campuses at colleges around the world. As with their solutions for the corporate environment, students can use their ID's to check out the supplies that they need from the vending machine or locker without having to deal with paperwork or hassle. 
Are IT Vending Machines Going to Replace the IT Desk?
The IVM vending machine is going to change how employees obtain the hardware and other technology products that they need like keyboards, headsets, mice and other computer peripherals but will this mean the end of the IT desk as we know it? 
Even though IT vending machines are going to become more popular in the months and years to come it's unlikely that the average corporation will be replacing their IT desk personal anytime soon. 
Most corporations will still want to offer their employees the personal touch that having a physical employee can offer them but it's likely as this technology advances, and more people become familiar with IT vending machines, we could see more of them in the years to come. 
To learn more about IVM Vending Machines visit their website at https://www.ivminc.com/. 
---

 Vending Technology News | More News | Vending Newsletter sign up | Questions? Contact us | email press release
Also see: Software Companies | Technology Companies | Micro Markets | Cashless Vending | Distributors | Classified Ads | Routes for sale | Vending Companies USA | Home |
VENDING YELLOW PAGES DIRECTORIES:
Call us at 1-800-956-8363, POST YOUR COMPANY, GET NEW BUSINESS!