IVM Black Box – The Technology That's Set To Change Vending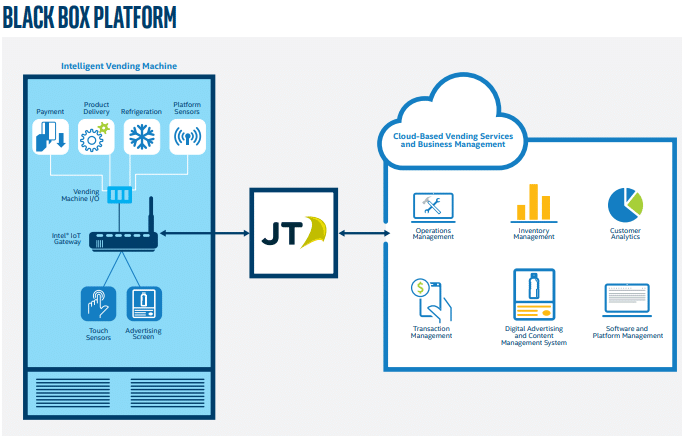 The IVM Black box has been developed by a partnership with Intel's intelligent vending department, and the International Vending Alliance (IVA), the IVM black box offers operators a 'one size fits all' solution that they can use to upgrade their existing vending machines into the 21st century.
About The IVM Black Box
Convenience, ease of use and flexibility are some of the words that describe the IVM black box but what can it do for a business? Some of the features that it offers includes:
Cloud-based dashboard
Real-time analytics
Remote management
Cashless payment options
Touch screen solutions
Customer loyalty technology
Digital signage
With the IVM Black box solution, operators worldwide can finally have smart vending machines while enjoying a single platform, with a cloud-based foundation, that offers them the analytics that they need to grow their businesses.
Flexible Platform, Strong Connectivity
The partnership between Intel's Intelligent Vending and the International Vending Alliance was created out of the IVA's concern for the vending industry decline over the last 20 years as sales have been lost to micro-markets and other touch screens kiosks.
Thanks to this black box solution, operators who have been using outdated technology can finally upgrade their vending machines and businesses.
Technology for Competitive Vending

With a smart black box from Intel, the IVA, and JT, vending is now poised for a dramatic makeover. Manufacturers can bring valuable new features to market faster, while feet operators and brands can better compete with improved telemetry and more effcient operations. Best of all, vending will offer amazing experiences customers will love and turn to time and
time again.
For more information or to order the black box solution, visit ivavending.com. See other Intel vending solutions at intel.com/vending.
Also, in the USA, the technology is represented by Unified Strategies Group Inc., https://unifiedstrategiesgroup.com/. In Canada, the technology is represented by Servomax, https://servomax.com/.