Italian Operator Teams With Nayax On Cashless Payment For Airport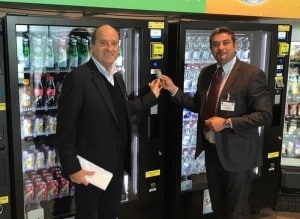 Nayax has partnered with Produco, an Italian operating company, to install its VPOS, an all-in-one cashless payment reader for unattended automated machines, in Galileo Galilei Airport located in Pisa, Italy.
VPOS will be installed on all vending machines in the airport, with an initial 80 machines, soon to be expanded to more than 200 machines. This plan ensures that more than 6 million visitors, yearly traveling through the airport, will be able to purchase products with the VPOS cashless solution.
VPOS enables cashless payment from all the leading payment methods, including Visa, Mastercard, ApplePay, Samsung Pay, Android Pay, Nayax's own Monyx Wallet payment app and more. VPOS is suitable for pre-paid cards and will let airport employees receive discounts with their employee cards.
"The entire process of installation, and setting up the back end for monitoring our sales, has been an easy, supportive experience," said Produco's Franco De Filippo. "Knowing that we can deal with one company for all our needs, whether it be related to the hardware, machine communication, or financial transactions, has made this a simple roll-out."
For more information visit http://www.Nayax.com/
---

Vending Technology News | More News | Vending Newsletter sign up | Questions? Contact us | email press release |
Also see: Software Companies | Technology Companies | Micro Markets | Cashless Vending | Distributors | Classified Ads | Home |
VENDING YELLOW PAGES DIRECTORIES:
Call us at 1-800-956-8363 to POST YOUR COMPANY, or QUESTIONS?