InHand Go Offers Smart Vending Solution Geared For Today's Mobile Consumers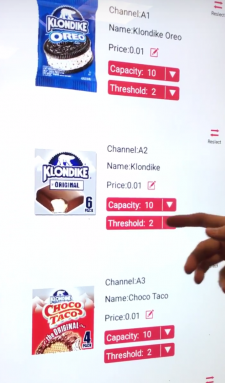 The InHand Go smart vending solution from InHand Networks in Fairfax, Va. is designed to bring vending machines into the mobile era. The solution enables touchscreen user interface, interactive marketing, cashless and mobile payments and cloud-based vending management. The solution is designed to help vending operators better serve mobile era consumers, increase the sales, improve efficiency and boost profits.
The interactive touchscreen dynamically displays product selection, nutrition information, advertising and promotions.
The InPos card reader accepts debit cards, credit cards, NFC payments and Apple Pay, and supports Wechat wallet, Alipay wallet and QR codes.
The cloud VMS and mobile app both support real-time inventory status and refill alerts, dynamic routing, analytics and remote machine monitoring. The software also supports interactive games and loyalty rewards.
The InPad retrofit kit enables touchscreen user interface, interactive marketing, cashless/mobile payment and cloud-based management. The company has 7-inch and 42-inch touchscreens for retrofits.
The retrofit kits are compatible with all MDB equipped machines, and support telemetry and the InPOs card reader for cashless payment.
Available peripheral interfaces include RS-232 serial and USB.
---

Vending Technology News | More News | Vending Newsletter sign up | Questions? Contact us | email press release |
Also see: Software Companies | Technology Companies | Micro Markets | Cashless Vending | Distributors | Classified Ads | Home |
VENDING YELLOW PAGES DIRECTORIES:
Call us at 1-800-956-8363 to POST YOUR COMPANY, or QUESTIONS?