How A Micro Market Software Developer Became A Refreshment Service Operator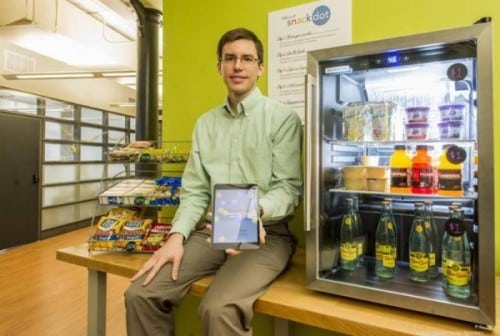 It's not unusual for a refreshment service operator to come up with a new way to operate – be it a new type of machine, an inventory management system or a customer engagement tool – then provide their innovation to other operators. Such was the case for some of the first vending management software systems and the first micro markets, to name a few examples.
Less typical is when the reverse happens: a provider of a management system becomes a refreshment service operator.
Such is the case of Chris Turner, a software developer who recently became a refreshment service operator after creating a software tool that allows the operation of micro markets with less investment than other systems. It was never his intention to become an operator, but as businesses became aware of his app-based software, they wanted someone to deliver snacks using his software. Hence, Turner's San Antonio, Texas-based business, SnackDot, is both a software service for managing micro markets (used by both operators and "self op" locations) and a refreshment service operation.
Initial Focus: Operators And Locations
Because the software can be used by both refreshment service operators and by locations managing their own employee snack operations, Turner marketed it to both audiences when he introduce the software earlier this year.
"Through our development of the micro market software, we learned that as we started to bring it to businesses, a lot of them wanted to know how they could get some snacks," Turner says. "As we sold that (software) product, we got a lot of requests for (snack) product."
He initially tried to partner with existing refreshment service operators to meet these service requests, but the operators he reached out to were not supportive. "They weren't responding on the timeline we needed to serve our customers well," he says. "We realized we could run the (service delivery) business pretty efficiently, so we decided to just do it ourselves."
How It Works
The SnackDot refreshment service sends the customer location a survey for employees to fill out. "Their staff votes on our snack catalog and they pick their favorite items," Turner explains. "We tally those votes, and based on the budget the company has selected, we send them custom delivery of snacks." SnackDot uses courier services to deliver the snacks from its warehouse.
Customer locations establish a monthly budget and pay a monthly subscription fee for the delivery service. The minimum monthly service fee is $250.
"We can deliver as frequently as needed based on the number of people we're serving," he says. Deliveries range from weekly to monthly.
SnackDot also provides customer locations with a custom-designed maple wood snack display merchandiser. "They get our shipment of snacks and they put them in that box," he says.
Locations Have Options
Customer locations can place an iPad tablet running the SnackDot Kiosk app, or a QR code sign near their product display. Employees at the worksite can then check out on the iPad or download the SnackDot mobile app on their mobile device to check out. Upon first checkout, users establish accounts that allow them to pay with credit cards. No product barcode scanning is required, and users can check out in as little as 10 seconds. There is also a loyalty rewards system.
The service saves an office manager the task of trying to determine what snacks the employees want. "They want a work place that is going to help them build and retain top talent," Turner says.
Customer locations can use the software to subsidize a portion of the cost for the snacks, with the employees paying the unsubsidized portion.
Service Available Nationwide
The SnackDot refreshment delivery service has been offered to businesses for the last two months. The delivery service is not confined to the local market; there are customers in California receiving deliveries from SnackDot's San Antonio warehouse. The refreshment service is available to customers nationwide.
SnackDot sources snacks from grocery and vend product distributors.
At the present time, Turner's software business is larger than the snack service, but he expects this to change. "Over time, the snack service will surpass the software," he says.
Benefits For Operators
SnackDot operator customers are serving business locations with as few as 10 or as many as 1,000 employees, which demonstrates the flexibility of the system. For large locations, multiple SnackDot markets can be set up in break areas around the building.
Operator customers pay a $30 monthly fee and a 3 percent commission on sales with no other startup costs.
For information, visit https://snackdot.com.

by Elliot Maras
---

| Home | Vending Technology News | More News | Vending Newsletter sign up | Questions? Contact us | email press release |
Also see: Software Companies | Technology Companies | Micro Markets | Vending Classified Ads |
VENDING YELLOW PAGES DIRECTORIES:
Call us at 1-800-956-8363 to POST YOUR COMPANY, or QUESTIONS?