High-Tech Cupcake Vending Machine From MagexUSA Debuts At Pittsburgh Mall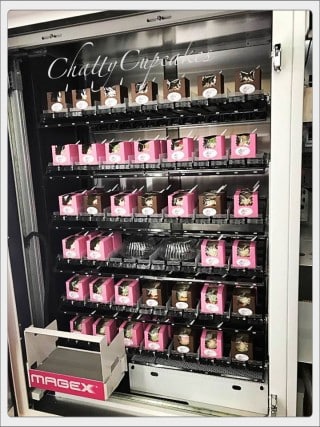 ChattyCupcakes has introduced its first automated cupcake machine at the Galleria Mall in Mount Lebanon, Pa., a Pittsburgh suburb. The machine is made by MagexUSA, an Alps Innovations Group company.
The system is based on "The Big Store" built by MagexUSA, which comes with a patented lane system that enables ease of packaging sizes, plus a web cam, armor gauge steel, security locks, anti-vandal security glass, alarm, electronic door openers, and low consumption LED lighting. The system also features back-end diagnostics and kiosk management for efficient operational and organizational control.
Alps Innovations is a custom vending machine manufacturer and developer of automated retailing systems, smart vending systems and self-service kiosks.
Ellan Toothman, co-founder of ChattyCupcakes, said the company's only "storefront" is this new custom-made vending system. "We realized we needed a way to get our cakes from the oven to our customers in an efficient and convenient way," she said. "After meeting with several engineers in an effort to build our dream machine, we found a company that knew exactly what we needed. It was a joy to work with them and we appreciate their exceptional knowledge and extraordinary workmanship."
The cupcakes are made from scratch, with butter, eggs, sugar and pure/natural flavorings.
"The machine was custom made specifically for us, and it's the only automated cupcake machine like it anywhere," Toothman said. "A national chain has an ATM machine that dispenses cupcakes, but our machine is set up like a 'store' — customers can see the cakes in a refrigerated display and select the one they want."
For more information: www.AlpsKiosks.com (a custom vending machine manufacturer), +1-905-264-2014.
By Elliot Maras
---

Vending Technology News | More News | Vending Newsletter sign up | Questions? Contact us | email press release |
Also see: Software Companies | Technology Companies | Micro Markets | Cashless Vending | Distributors | Classified Ads | Home |
VENDING YELLOW PAGES DIRECTORIES:
Call us at 1-800-956-8363 to POST YOUR COMPANY, or QUESTIONS?