GReT Smart Vending Machines, Contactless, Cashless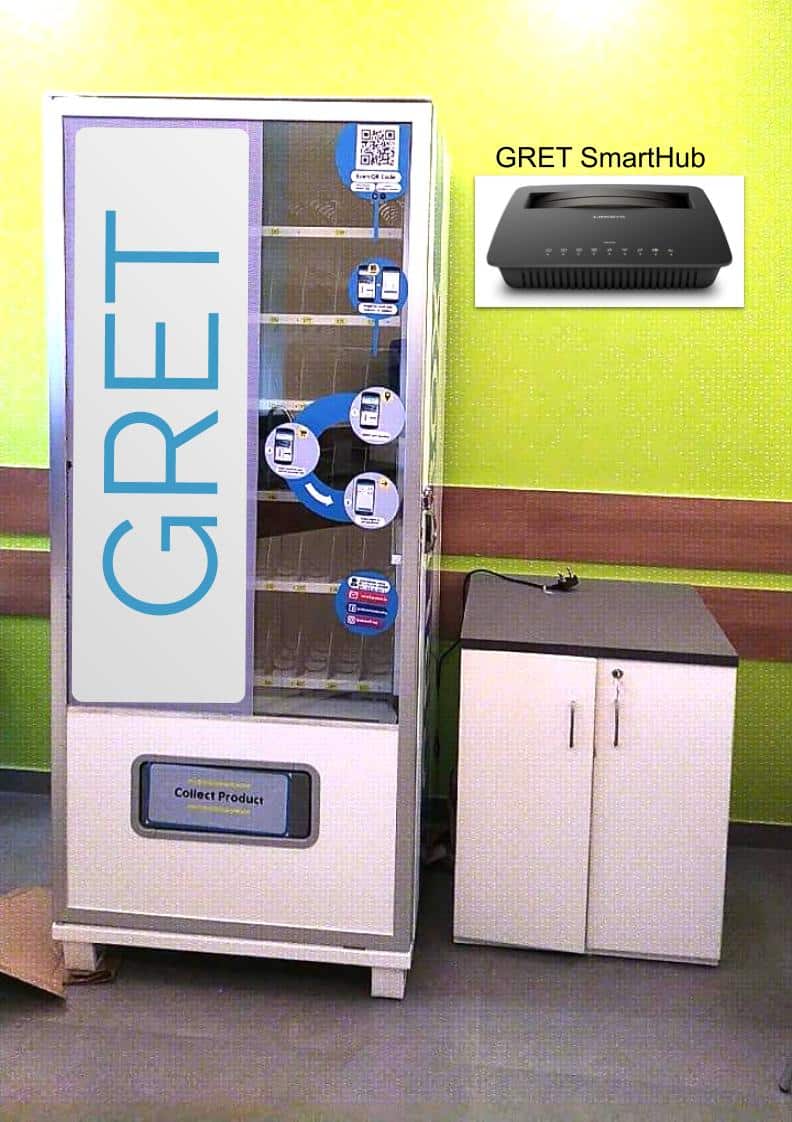 GReT Smart vending machines are low on heavy machinery and high on performance. Contactless. Cashless. No expensive Touchscreen or cashless payment solution is needed.

Users can buy multiple products, make cashless payments, and get smart personalised offers. It is e-commerce with instant product delivery.

GReT also offers a demand based secure management portal for warehouse operations, prekitting and more.  Built-in forecasting and user dashboards enable smart operations and help eliminate out-of-stock positions.   The service is subscription based with no app installation necessary. 

Are you planning on adding new vending machines to your vending business? Or are you thinking about getting started with vending machines for the first time? If so, you should consider investing in a GReT cashless, contactless smart vending machines.

Cashless and contactless vending machines are the solution that consumers are needing in 2020, since Coronavirus has changed the vending industry and people still want to use vending machines without having to physically touch them.
With GReT vending machines, you're going to have a smart vending machine that's not as bulky as vending machines from the past. Their vending machines are efficient and offer the high-performance options that you want without you having to invest in a touchscreen or other cashless payment options.

About GReT Smart Vending Machines
Consumers using GReT need to have the app on their phone.  Like many other machines, product is ordered from the app without touching the machine.  Since operations are cloud based, the transaction is registered in real time with the operator, allowing the operator to know instantly everything that happens at the machine.  According to the manufacturer, the data capability can build a scalable business, including sending personalized offers to cunsumers which will increase the number of products purchased and help the operator to grow the business. 
GReT's cloud-based system can also be used by micro markets to track product freshness, forecast demand and more. 
The company also offers plug and play payment solutions that can be used to convert existing vending machines into smart machines which offer the ability to pay digitally. 
For more information visit website at https://www.getretailtech.com/,  email care@getretailtech.com
By Jeff Adair, Editor
---

 Vending Technology News | More News | Vending Newsletter sign up | Questions? Contact us | SUBMIT PRESS RELEASE
Also see: Software Companies | Technology Companies | Micro Markets | Cashless Vending Solutions | Distributors | Classified Ads | Routes for sale | Vending Companies USA | VendLoco Lists | Home |
VENDING YELLOW PAGES DIRECTORIES:
Call us at 1-800-956-8363, POST YOUR COMPANY, GET NEW BUSINESS!