Fuji Electric Launches Bean-To-Cup, Single-Serve Brewer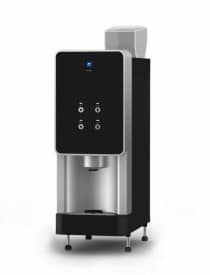 Fuji Electric Corp. has entered the bean-to-cup coffee machine market in the U.S. with the launch of BeanBrew, a commercial-grade, single-serve coffee machine that uses freshly ground beans for every cup, allowing for 24/7 access to gourmet coffee in locations such as offices, hotels, restaurants, and convenience stores.
BeanBrew's grinding technology results in finely ground beans that are consistent in size for a smooth flavor.
"Although we're new to the U.S. market, Fuji Electric has been utilizing this technology in our machines since 2013, with over 40,000 machines deployed to convenience stores in Japan and 2.4 billion cups of coffee sold to date," said Jeff Knapp, general manager of Fuji Electric Corp.
Fuji Electric's grinding unit is powered by a high performance motor, grinding the coffee beans to a fine and uniform consistency, even at low RPMs. Conventional machines are powered by motors running at higher RPMs, and this can burn or oxidize the beans, ultimately affecting the flavor.
The brewing process involves a comprehensive method of steaming and pressing the beans to extract maximum flavor and aroma. BeanBrew uses simple push buttons for easy operation. The UL/NSF-certified machines feature multiple bean hoppers, a hot water dispenser and a variety of options for easy calibration.
For more information visit: BeanBrew Fuji Electronics.
---

Vending Technology News | More News | Vending Newsletter sign up | Questions? Contact us | email press release |
Also see: Software Companies | Technology Companies | Micro Markets | Cashless Vending | Distributors | Classified Ads | Home |
VENDING YELLOW PAGES DIRECTORIES:
Call us at 1-800-956-8363 to POST YOUR COMPANY, or QUESTIONS?