Dedicated Fresh Food Machine Serves Chef Crafted Meals In Reusable Jars, Debuts In New York City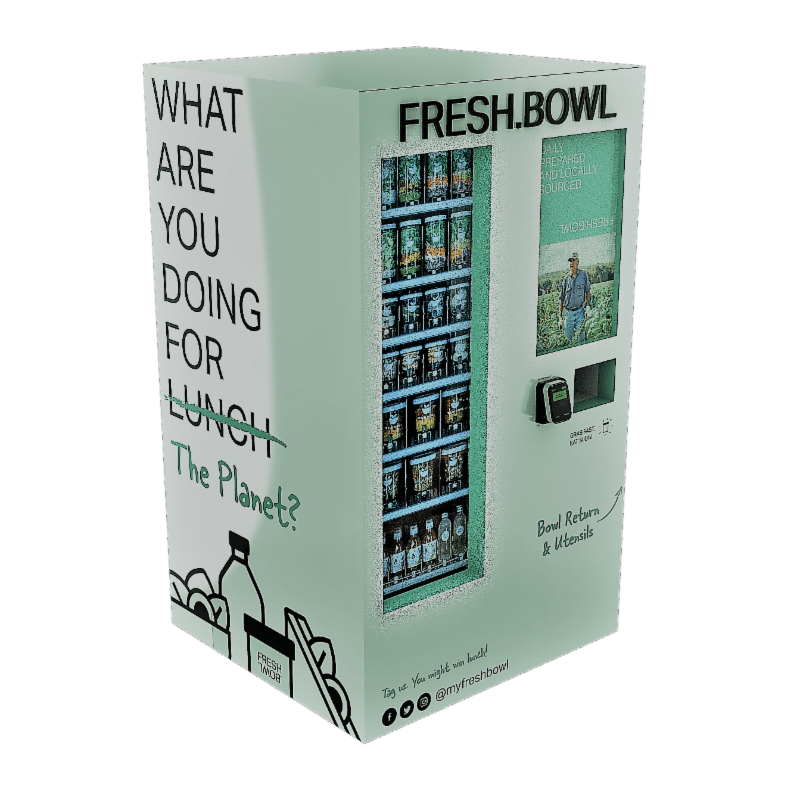 Fresh.Bowl, a dedicated fresh food vending machine that allows customers to return reusable glass jars, recently made its debut in New York City. The concept was created by a pair of entrepreneurs concerned about single-use package waste and at the same time wanted to provide chef crafted, nutritious meals. The company recently placed its first machines in Manhattan following a 6-month test by WeWork, the shared work space.
Founders Chloe Vichot and Zachary Lawless custom built the machines, which feature a touchscreen that allows customers to search meals by daypart category; breakfast, lunch, snacks, etc., and view nutrition, ingredients and allergens for each meal. Customers can pay with NFC credit and debit cards, prepaid cards such as office and university cards, and via mobile pay.
Each meal ranges from 180-675 calories and retails between $6 and $12. Customers who return the glass jar to the machine receive a $2 credit toward their next purchase.
"Most grab-and-go food options today are generic, mass produced, highly processed and over packaged," said Lawless. "Fresh.Bowl is offering a more thoughtful approach as we never sacrifice convenience for quality or sustainability."
The meals are prepared daily from scratch in the company's kitchen using local ingredients. Vichot creates the recipes with the help of Willow Jarosh, a registered dietitian, and the menu includes gluten-free, dairy-free, nut-free and vegan offerings.
The company monitors the machine activity via remote access and visits each machine daily to restock food and utensils, and picks up empty jars to be cleaned and reused, Vichot said. The glass jars can be reused up to 100 times, she said.
The company plans to introduce an app to allow customers to place and purchase orders via the app and pick them at a machine.
"Growing up in France not only inspired my cooking, but also shaped my own understanding and vision for sustainability," said Vichot, who is also the founder of Ancolie, a New York City restaurant that serves fresh meals in reusable glass jars. "When I moved to New York, I was shocked at the amount of waste being generated from on-the-go packaging. I knew there had to be a better way to provide nutritious  meals and inspire people to incorporate reusable containers in their lifestyle."
"Fresh.Bowl's vending machines, which were piloted at our Varick Street location for six months, proved to be just what our hungry (figuratively and literally) members were looking for: fresh meals, served sustainably," said Kofi Ampadu, a labs manager at WeWork Labs.
Fresh.Bowl's first locations since the test include the Fulton Street Station, the Droga5 headquarters and a Midtown New York office.
For more information visit https://myfreshbowl.com/
By Jeff Adair, Editor
---

Vending Technology News | More News | Vending Newsletter sign up | Questions? Contact us | email press release
Also see: Software Companies | Technology Companies | Micro Markets | Cashless Vending | Distributors | Classified Ads | Routes for sale | Vending Companies USA | Home |
VENDING YELLOW PAGES DIRECTORIES:
Call us at 1-800-956-8363, POST YOUR COMPANY, GET NEW BUSINESS!