Foley FoodService Grows Business 19% With PayRange
Foley FoodService, a vending operator based in Massachusetts and Rhode Island, was able to grow their business by 19% since its partnership with PayRange. When Steve Foley, owner of Foley FoodService was contacted by PayRange in 2015, the company's machines were unable to accept mobile payments, which Foley said was costing the company business. Foley operates vending machines, micro markets and office coffee solutions in Rhode Island and Massachusetts.
At the time, smartphone use in the United States was accelerating at a fast pace, even more than today, and most companies on the East Coast were looking for vending operators that could accept mobile payments because most employees were doing everything from their smartphones.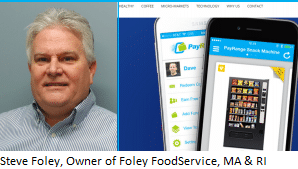 "Every time someone buys into it, it's 8, 9, 10, 12, uses over a week or a month. You can easily double and triple the sales of the existing customers," Foley said. "We've included PayRange in every single available machine that we can put it on, and on any new installs that go out," Foley added.
Once PayRange partnered with Foley FoodService, the company was able to offer an extra level of service to its customers because PayRange makes it possible for companies to accept mobile payments so that customers can order from vending machines utilizing their smartphones.
By using PayRange Foley FoodService is able to offer rewards programs to keep consumers coming back for more. 
PayRange Helps To Create A 'Customer Centric' Experience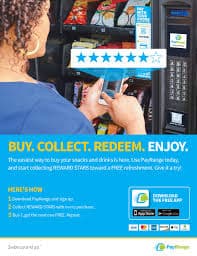 Besides creating a location–specific Loyalty Rewards program for the machines that Foley FoodService owns, the company was also able to entice Foley's customers to continue coming back with cash discounts for paying digitally, and other incentives which showed customers that they were appreciated and rewarded for their business.  
With customer-centric rewards programs, it quickly became clear to Foley that their partnership with PayRange was yielding excellent results because customers like to have flexible choices and rewards programs.  
Since partnering with PayRange in 2015, Foley has agreed to have PayRange BluKey devices installed on all of their 3,000 vending machines. The partnership continues thriving today because PayRange also helps Foley by creating custom–tailored marketing campaigns, behavioral analytics for each machine, and more.  
To learn more about PayRange, and the benefits that their BlueKey devices can offer your business, visit their website at https://www.payrange.com. 
---

 Vending Technology News | More News | Vending Newsletter sign up | Questions? Contact us | SUBMIT PRESS RELEASE
Also see: Software Companies | Technology Companies | Micro Markets | Cashless Vending Solutions | Distributors | Classified Ads | Routes for sale | Vending Companies USA | VendLoco Lists | Home |
VENDING YELLOW PAGES DIRECTORIES:
Call us at 1-800-956-8363, POST YOUR COMPANY, GET NEW BUSINESS!