Everest Ice And Water Teams With SandenVendo On Merchandiser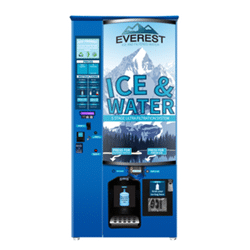 Everest Ice and Water Systems has partnered with SandenVendo America to offer customers an ice and water vending machine using Everest's patented dispensing technology.
"We've been researching ice vending for a number of years, but we were never really impressed with the technology out there. However, when we found Everest, we were blown away by the design," said Mike Weisser, vice president of sales and marketing at SandenVendo America. "The issue with most ice vending machines is the maintenance. Ice jams are common to these machines. Everest, however, has designed a machine that eliminates that issue."
With Everest's VersaVend dispensing system, ice is agitated and dispensed in one single step using gravity rather than mechanical beaters and augers.
This patented design eliminates the need for multiple moving parts within the machine since ice is moved and dispensed to the customer with one rotating barrel. Everest's patented design currently operates in three continents, but through this partnership, Everest seeks greater market share in North America.
"In 2017, we are focused on distribution sales in North America," said Ben Gaskill, national director of sales at Everest.
For more information visit: http://everesticeandwater.com/
---

Vending Technology News | More News | Vending Newsletter sign up | Questions? Contact us | email press release |
Also see: Software Companies | Technology Companies | Micro Markets | Cashless Vending | Distributors | Classified Ads | Home |
VENDING YELLOW PAGES DIRECTORIES:
Call us at 1-800-956-8363 to POST YOUR COMPANY, or QUESTIONS?