Empire Vending Leveraging USAT's Platform To Improve Efficiencies 
For Houston's Empire Vending, LLC, the decision to choose USA Technologies was a step that the company knew that they needed to take, if they wanted to continue providing the most efficient service to their 200 customers in the greater Houston area.  Empire partnered with USA Technologies to automate time–consuming operational activities so that they could start reinvesting their company resources on growing their business. USA Technologies, Inc is a well-known software services company that specializes in cashless payments and end-to-end technology solutions.  
"USAT's ability to provide a robust end-to–end solution, combined with its Customer Service Management Team's training and product resources, was a key factor in our selection," said Jonathan Abernathy, Director of Operations, Empire Vending, LLC. "We identified vending management as a critical component to automating and modernizing how we run our business, from getting rid of pen and paper to better insight of our inventory and cash management. The ePort deployment has enabled more payment options for our customers.
"In addition, the Seed Cloud™ platform implementation has delivered scalability and flexibility, allowing us to manage all aspects of the organization, creating proficiencies that were not possible before. Never before has this been more evident than during the era of Coronavirus, as the real time data Seed provided gave us better visibility into what locations were live and needed servicing during the lockdown."
Cashless Enabled Across All Of Their Vending Machines
Thanks to its partnership with USA Technologies, Empire Vending has enabled cashless across most of its vending machines. This move has given Empire's customers a wider variety of payment options, and best of all, it has also increased the company's average ticket price by  42%. Empire has also been able to utilize USA Technologies' Seed Cloud deployment to review real–time sales data. The cloud–based tools that USA Technologies offers have also made it easier for Empire to keep their machines stocked with the foods and beverages that its customers want.  Empire also has been able to use USAT's digital advertising tools to market to their customers.  
Adapting To A Market That's Been Affected By Covid-19 
Most vending companies had already been adopting cashless technologies in recent years but due to Covid-19, there's been a greater demand for businesses to adopt cashless solutions across all of their machines. 
Empire Vending is a perfect example of why every vending company should embrace touchless technologies because these solutions have also produced a wide variety of benefits for the company including: 
Improved cash accountability and reconciliation

 

The number of machines serviced per route increased by 2X 

 

Increasing its fills per visit by 57%

 

Reducing overall service stops down to an average of 15 minutes or less

 

Ability to see which customers were active vs. inactive during COVID-19 lockdown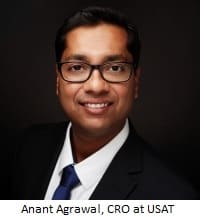 "Empire Vending's decision to adopt USAT reflects their commitment to delivering innovative services and bottom-line results while meeting the rigorous and ever-changing demands of the unattended and self-serve retail markets."  – Anant Agrawal, chief revenue officer, USA Technologies.  
To learn more about USA Technologies, and how they can help streamline your business, call them at (610) 989-0340 or visit their website at https://usatech.com.  
---

 Vending Technology News | More News | Vending Newsletter sign up | Questions? Contact us | SUBMIT PRESS RELEASE
Also see: Software Companies | Technology Companies | Micro Markets | Cashless Vending Solutions | Distributors | Classified Ads | Routes for sale | Vending Companies USA | VendLoco Lists | Home |
VENDING YELLOW PAGES DIRECTORIES:
Call us at 1-800-956-8363, POST YOUR COMPANY, GET NEW BUSINESS!