deORO Markets Enters The Micro Market Industry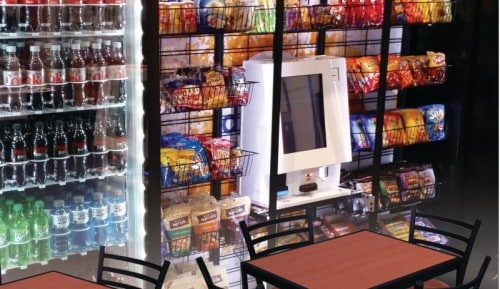 deORO Markets has entered the expanding micro market industry with a system that includes flexible payment options for customers.?A micro market is a self-contained store in a location without an employee to monitor it. It is comprised of freestanding storage, such as shelves that hold product, and a self-checkout kiosk. The customer scans their package at the checkout kiosk.
deORO Markets, based in Odessa, Texas, was started by vending operators. The system includes back-end software for monitoring customer activity and managing accounts. It also provides reports for managing inventory.
deORO provides proximity-based sensing for smartphone users, time stamps of all transactions, and motion-based camera recording to ensure safety.
All data is stored locally and backed up by servers regularly, allowing the software to run without a constant Internet connection.
The deORO smartphone app relies on peer-to-peer local networking to engage users and allows the app to work with the kiosk without an Internet connection.
Support is available from 6 a.m. to 6 p.m.?Eastern Standard Time with after hours email support.
For more information visit: http://www.deoromarkets.com/
by Elliot Maras
---

| Home | Vending Technology News | More News | Vending Newsletter sign up | Questions? Contact us | email press release |



Also see: Software Companies | Technology Companies | Micro Markets | Vending Classified Ads |
VENDING YELLOW PAGES DIRECTORIES:
Call us at 1-800-956-8363 to POST YOUR COMPANY, or QUESTIONS?