CVS Pharmacy To Install Wellness Automated Venders Nationwide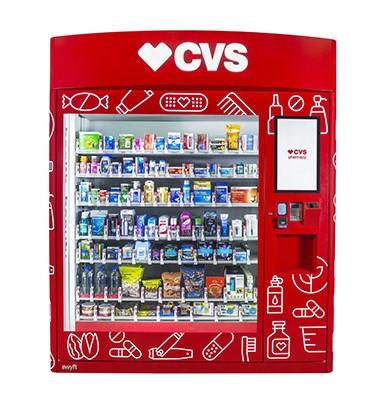 CVS Pharmacy, the retail division of CVS Health, plans to install automated retail vending machines stocked with on-the-go necessities including "better-for-you" snacks and personal care products at locations nationwide. The machines are designed to serve customers in locations outside the traditional retail space.
"Our new CVS Pharmacy vending machine program allows us to extend that convenience beyond our brick-and-mortar locations to offer customers on-the-go essentials in the locations where they often need them most, like airports, hotels and other transportation hubs," said Judy Sansone, senior vice president of front store business and chief merchant at CVS Pharmacy.
Each machine will be customized to fit each location with more than 70 products, including items from exclusive CVS Pharmacy store brand lines such as Gold Emblem, CVS Health, Beauty 360 and Gold Emblem Abound. Products available in the vending machines include:
⦁ Healthy snacks and beverages
⦁ Vitamins and supplements
⦁ Eye care and oral health care products
⦁ Solutions for healthy sleep such as melatonin
⦁ Children's health and on-the-go first aid items such as bandages and antiseptic cream
⦁ Home and office essentials such as batteries, phone chargers, earbuds, lint rollers and stain removal sticks
⦁ Over-the-counter remedies for allergy, pain relief, digestive health, and cough and cold
⦁ Beauty and personal care products like shaving cream, deodorant and makeup remover
The first 25 machines will be unveiled throughout New England and New York through the end of October in targeted areas including:
⦁ Airports including LaGuardia in New York City
⦁ Public transit stations such as South Station Bus Terminal in Boston
⦁ Office parks
⦁ College campuses
CVS Pharmacy is also considering an additional 50-plus locations throughout the country including college campuses, corporate offices, hotels and other transportation hubs to host vending machines in the future.
For more information visit: http://www.CVSHealth.com
---

Vending Technology News | More News | Vending Newsletter sign up | Questions? Contact us | email press release |
Also see: Software Companies | Technology Companies | Micro Markets | Cashless Vending | Distributors | Classified Ads | Home |
VENDING YELLOW PAGES DIRECTORIES:
Call us at 1-800-956-8363 to POST YOUR COMPANY, or QUESTIONS?