Custom Graphic Hand Sanitizer Stands
Sanitize while growing your business during Covid-19. Check out these Custom Hand Sanitizer Stands by Shows to Go Backdrops, any company can promote their business to consumers because this sanitizer stand can be set up in less than five minutes and offers full 360-degree branding.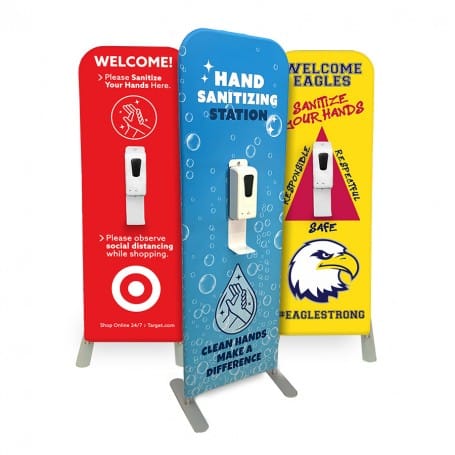 What's ideal about this hand sanitizer stand is that it offers high visibility and the ability for any business to use their own custom colors, graphics, or logo to promote their brand in any indoor environment. 
Besides offering convenience and flexibility, this hand sanitizer stand is available in two sizes. Extra–large is 2.5 feet wide x 6 feet high, and extra–large is 2.5 feet wide by 6.5 feet high.  
These hand sanitizer stands would work perfectly in any indoor location including busy lobby's, store entrances, sporting events, or locations that receive a large amount of foot traffic daily.  
A hand sanitizer station is a perfect solution for a business, or live event, to their consumers in this day and age because most people want to sanitize but few stores or venues offer a convenient way for people to sanitize when they enter the location. 
With this durable hand sanitizer station, you have everything you need to offer hand sanitizing to your consumers including a hands-free dispenser that automatically dispenses hand sanitizer. There's also a drip tray, backplate, and convenient storage bag so that it can be easily disassembled and transported when needed. 
An Ideal Way To Advertise 
Since most consumers want to sanitize in 2020, if they are given the opportunity, having a hand sanitizing station is an ideal way for a business or brand to reach consumers. Since the consumer will be standing in front of the sanitizing station for 30 seconds or longer while they sanitize, this essentially creates a 'captive audience' for a business to promote new products, services, solutions, or an event.  
Shows to Go BACKDROPS also offers replacement backdrops for their sanitizing stations so that the graphics can be changed for a business owner to promote special events, discounts, or holiday sales. 
Priced at $290 for their standard size, and $315 for their extra-large size, a hand sanitizer stand is a smart investment for any local business or venue that wants to reach more customers.
For more information visit http://www.showbackdrops.com
By Jeff Adair, Editor
---

 Vending Technology News | More News | Vending Newsletter sign up | Questions? Contact us | SUBMIT PRESS RELEASE
Also see: Software Companies | Technology Companies | Micro Markets | Cashless Vending Solutions | Distributors | Classified Ads | Routes for sale | Vending Companies USA | VendLoco Lists | Home |
VENDING YELLOW PAGES DIRECTORIES:
Call us at 1-800-956-8363, POST YOUR COMPANY, GET NEW BUSINESS!