Crane Merchandising Systems Launches MEDIA2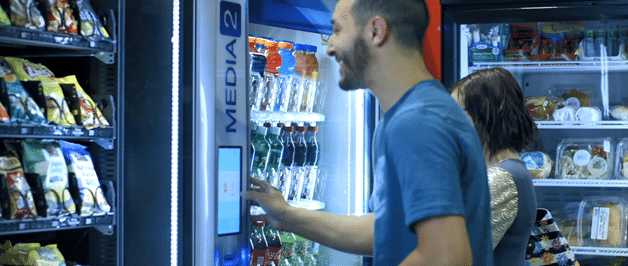 Crane Merchandising Systems recently announced the launch of MEDIA2, the newly redesigned user experience for vending. MEDIA2 delivers enhanced performance with faster touch responsiveness on its larger 9-inch screen, smooth full-motion video playback, improved dimensional graphics, and increased storage capacity.To enhance service team efficiency, boot time is now less than a minute.
"We leveraged knowledge provided by thousands of MEDIA machines in the field, and excellent feedback from vending operators to deliver a powerful performing machine with a truly engaging experience for consumers," said Kirn Reis, vice president and general manager of cold drink, snack and food. "With improved screen performance, suggestive selling, and advertising features, MEDIA2's average daily sales in our trials were consistently 23 percent higher than original MEDIA."
The intuitive user interface is designed to influence consumer behavior with suggestive selling through a patent-pending recommendation engine. Operators can highlight specific products by placing them into the "featured products" category which is ideal for exposing new product to consumers and promoting slow movers.
Over a four-week trial period, the new suggestive selling feature more than doubled targeted item sales for a traditionally low-selling product.
The additions of full motion video and sponsored product suggestions allow MEDIA2 to take Crane's innovative digital advertising experience to a new height.
Brand companies and vending operators now have four unique opportunities to advertise throughout the vending process. As with earlier MEDIA products, vending operators have the opportunity to earn incremental revenue by signing up to participate in over-the-air managed advertising campaigns. Crane's advertising program has delivered significant results over the past two years and offers the ability to influence more than 12 million consumers monthly in the U.S. alone.
The new generation of MEDIA2 products also offers Crane's remote management services. This allows operators to manage their machines on the go, reducing costly visits to machines, improving efficiency, and keeping content fresh for consumers.
For more information visit https://www.cranems.com/
---

Vending Technology News | More News | Vending Newsletter sign up | Questions? Contact us | email press release
Also see: Software Companies | Technology Companies | Micro Markets | Cashless Vending | Distributors | Classified Ads | Routes for sale | Vending Companies USA | Home |
VENDING YELLOW PAGES DIRECTORIES:
Call us at 1-800-956-8363, POST YOUR COMPANY