Crane Merchandising Systems' BevMAX Machine To Play Role on Powerless, a New NBC Comedy Series from DC Comics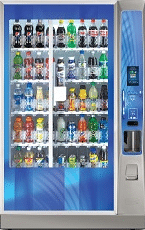 WILLISTON, S.C., February 1, 2017 – A Crane Merchandising Systems' BevMAX MEDIA machine will be a key prop in a new NBC TV comedy series about superheroes and the regular citizens who live around them.  The new show entitled Powerless premiers February 2 at 8:30 EST and 7:30 CST. Crane Merchandising Systems, a Crane Co. company, is the leading global manufacturer of innovative solutions for vending machines, cashless systems, software and wireless communications.
Crane's MEDIA machine are well known for their ability to attract and engage consumers and drive same store sales with a modern design, custom graphics, screen messaging, shopping cart features and digital advertising.
According to the NBC website, Powerless is the first comedy series set in the universe of DC Comics.  It stars Vanessa Hudgens as Emily Locke, Director of Research and Development for Wayne Security in Charm City, home to citizens fed up with the collateral damage of the constant fighting between the super heroes and villains.
The BevMAX MEDIA on the show is the most advanced cold beverage machine available today and will feature custom graphics designed by DC Entertainment.
"Producers of the show chose the BevMAX MEDIA because it was able to showcase the custom graphics and modern styling relevant to the DC brand," said Bill Beatty, Director, Global Product Management, at Crane. "Operators are taking advantage of the same powerful graphics package to win new locations and drive new consumers to the unattended retail market."
About Crane Merchandising Systems
Crane Co. is a diversified manufacturer of engineered industrial products. Crane Co. is traded on the New York Stock Exchange (NYSE:CR). One of its segments, Crane Merchandising Systems, designs and manufactures a diverse, yet integrated portfolio of automatic merchandising equipment across multiple verticals, including hot and cold beverage, snack, and food. It also offers other vending solutions including cashless processing, payment devices, vending management software and wireless communication technology. Its legacy of brands (Automatic Products®, Dixie Narco®, GPL®, National Vendors™, Stentorfield™ and Streamware®) enables Crane to provide customers a complete, cross-platform solution while maintaining innovation, quality and service. www.cranems.com
---

Vending Technology News | More News | Vending Newsletter sign up | Questions? Contact us | email press release |
Also see: Software Companies | Technology Companies | Micro Markets | Cashless Vending | Distributors | Classified Ads | Home |
VENDING YELLOW PAGES DIRECTORIES:
Call us at 1-800-956-8363 to POST YOUR COMPANY, or QUESTIONS?