Crane Digital Retrofit Screens Expected To Boost Product Advertising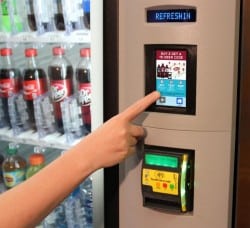 USConnect, a national network of independent foodservice companies, expects the recently introduced Crane Navigator Touch retrofit screens to give a boost to the digital advertising program that began this year in is partnership with Crane Connectivity Solutions. The program currently allows vending operators to collect revenue for ads running on the Crane "Media" machines.
Jeff Whitacre, president and CEO of USConnect as well as Food Express, a Greensboro, North Carolina based refreshment services provider, expects more advertisers to come on board, partly on account of the new retrofit screens that will carry the ads to thousands more machines.
Advertising orders for the program from vend product manufacturers have been sold out through the third quarter of 2017, said Whitacre.
Whitacre's goal is for the ad revenue to cover the operator's cashless and telemetry costs. He wants to see Crane retrofit screens on all of USConnect members' 100,000 machines that have telemetry.
USConnect shares the income from the advertising with Crane as well as its operator members.
"The manufacturers pay to have the ads up on the machines, and then we share that money with the operators," Whitacre said.
The content for the ads is provided by Crane. "All of the content is streamed over the air," Whitacre said. Operators do not have to do anything to their machines to run the ads.
Program Launched In 2012

Crane introduced its Media platform in 2012. The Media screens are now available on its Merchant snack machines, BevMax cold drink venders and Voce hot beverage machines.
The new Navigator Touch retrofit screens can be installed in any machine that has a Crane Navigator telemetry device.
USConnect has been running product manufacturer promotions for its members for years, for both vending machines and micro markets. The advertising program in collaboration with Crane, a USConnect technology partner, launched in 2017.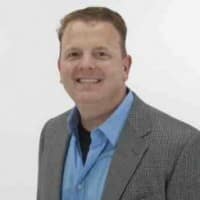 "We've been running them on the Media machines," Whitacre said. "The difference now is we're running them on the retrofit screens in addition to running them on the Media screens. That allows us to take the advertising to a million machines."
There are about 500 retrofit screens in a pilot test currently, Whitacre said.
Target: 30,000 Machines By This Year
USConnect hopes to have as many as 30,000 machines running the advertising by the end of 2017. There are about 5,000 Media machines in the USConnect network and at least 20,000 machines that are candidates for the retrofit screens.
"The money is significant on the advertiser side," he said.
Most of USConnect's 80 operator members are participating in the digital advertising program.
The screens at present can run three static digital ads per quarter – a total of nine different advertisers. Whitacre said the program will likely expand to five rotating ads by the end of the year.
"As the technology gets better, we'll be able to run more ads," he said.
The Crane software quantifies how many transactions occur at the machine while the ad was playing.
"We would know that the machine had a million views – a million opportunities to be seen – and during that million opportunities there were 127,000 vends," Whitacre said, offering a hypothetical example.
"This will continue to get smarter and better and more valuable to the manufacturers as it gets a little more mature," he said.
More To Come

Crane's new Media2 machines will have the capacity to run full-motion video on a larger screen.
The advertising program only needs one or two more advertisers to be at a point where it could generate enough revenue to cover the operators' telemetry costs.
"So far, the ads have been sold out well in advance of the quarter," Whitacre said. The advertisers are seeing more sales on the products being advertised.
Whitacre's Food Express operation has seen as much as a 30 percent lift on the products being advertised, both on vending machines and micro markets.
"The operators love it because all they have to do is put the product in and they're generating $4.50 per month per machine," he said. "It's going to offset their cashless and telemetry costs."
Participating advertisers include Mars, Nestle and PepsiCo.
USConnect will introduce large digital advertising screens controlled from a central data base in 2018.
For more information about Crane Media2 vending machines visit http://cranems.com
---

Vending Technology News | More News | Vending Newsletter sign up | Questions? Contact us | email press release |
Also see: Software Companies | Technology Companies | Micro Markets | Cashless Vending | Distributors | Classified Ads | Home |
VENDING YELLOW PAGES DIRECTORIES:
Call us at 1-800-956-8363 to POST YOUR COMPANY, or QUESTIONS?