Crane Co. Will Purchase Global Banknote Manufacturer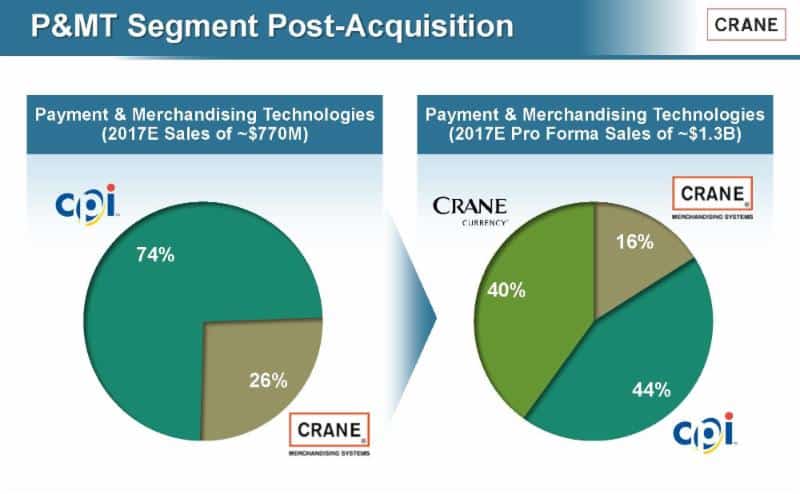 Crane Co., which owns Crane Merchandising Systems and Crane Payment Innovations, has agreed to purchase Crane Currency, a global banknote manufacturer based in Boston, Mass., for $800 million, according to a company announcement. Crane Currency specializes in banknote design, substrate manufacturing, banknote printing and security technologies. It sells in 50 countries and has 1,100 employees.
Crane has already begun planning for a new world class banknote printing facility in Malta and is accelerating its investment in security products.
The acquisition will take Crane's payment and merchandising technologies estimated 2017 sales from $770 million to $1.3 billion. The company's payment and technologies estimated pro forma sales will be 44 percent comprised by Crane Payment Innovations, 40 percent by Crane Currency and 16 percent by Crane Merchandising Systems.
Crane Co.'s 2017 estimated sales would grow from $2.8 billion to $3.3 billion. The company's sales would be comprised 39 percent by payment and merchandising, 31 percent by fluid handling, 21 percent by aerospace and electronics and 8 percent by engineered materials.
The acquisition marks the second largest in Crane Co.'s history.
---

Vending Technology News | More News | Vending Newsletter sign up | Questions? Contact us | email press release |
Also see: Software Companies | Technology Companies | Micro Markets | Cashless Vending | Distributors | Classified Ads | Home |
VENDING YELLOW PAGES DIRECTORIES:
Call us at 1-800-956-8363 to POST YOUR COMPANY, or QUESTIONS?