Costa Coffee Tabs Eseye For IoT Connectivity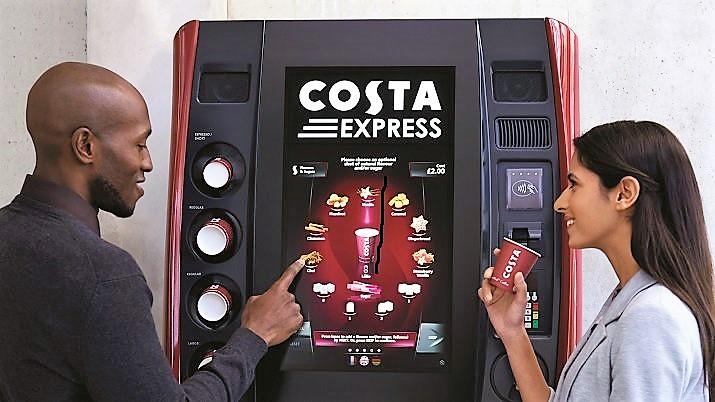 Costa Coffee, a provider of premium coffee, has teamed with Eseye, a U.K.-based industrial IoT connectivity specialist, to deploy IoT-enabled Costa Express vending machines around the world.
Eseye's IoT technology will help the company to achieve its vision to transform the future of coffee retailing across the globe, through realtime data collection and an end-to-end IoT service that enables Costa Express to better monitor its machines and thus reduce downtime and create a competitive advantage.
Costa Coffee has equipped its Express coffee machines with the Eseye AnyNet Secure multi-IMSI SIM, which connects to any available mobile network instantly, enabling cellular data access anywhere and communication to the back-end systems as soon as one of the 10,000 plus machines are powered on. The SIM also provides health monitoring, local time synchronization and data route information.
Costa Express is also utilizing Eseye's new AnyNet Active Management service, which provides a fully managed, proactive multi-network Switching as a Service capability with a dedicated service delivery manager to ensure its IoT connectivity service is delivering near 100 percent uptime.
Eseye's technology allows Costa Coffee to ensure site staff replenish milk and other consumables, and that machine functionality such as coffee grinder or boiler performance is monitored in real-time. This enables the machines to match the quality, service and experience delivered through barista-made coffee in-store. It also reduces the need for specialist engineers to physically connect every machine to local WiFi or cellular networks, and ensure uptime.
For more information visit https://www.eseye.com
---

Vending Technology News | More News | Vending Newsletter sign up | Questions? Contact us | email press release
Also see: Software Companies | Technology Companies | Micro Markets | Cashless Vending | Distributors | Classified Ads | Routes for sale | Vending Companies USA | Home |
VENDING YELLOW PAGES DIRECTORIES:
Call us at 1-800-956-8363, POST YOUR COMPANY, GET NEW BUSINESS!