Convenience 2020: Technology Reshapes Refreshment Services On Several Fronts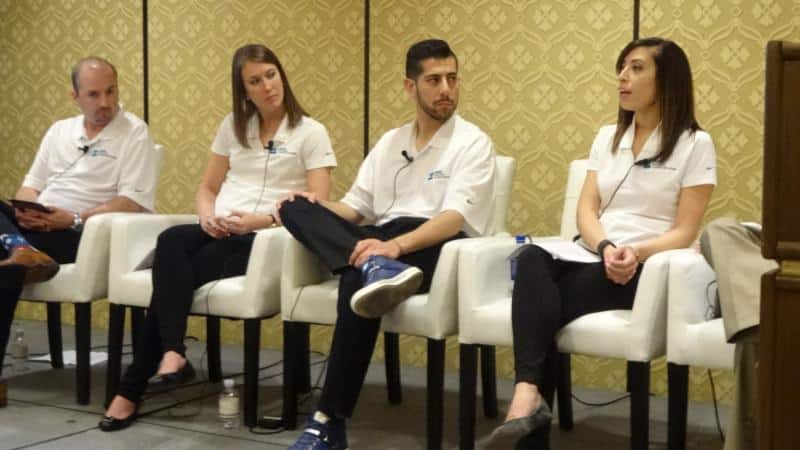 Today's consumer is the most spoiled in history when it comes to having what they want when they want it. UberEATS – an online meal ordering and delivery platform – and Amazon Go – a new grocery store where consumers can pay without using a cashier – are recent innovations that are likely to impact the refreshment services industry.
So what will convenience services look like in 2020? A panel consisting of millennials in the refreshment services industry tackled that question during the National Automatic Merchandising Association (NAMA) OneShow in Las Vegas. The session was titled, "2020, What will convenience services look like? Insights from ELN."
Panelists included: CJ Recher, director of marketing, Five Star Food Service Inc., Chattanooga, Tenn.; Elyssa Allahyar-Steiner, marketing director, Cantaloupe Systems, Inc., San Francisco; Juan Jorquera, founder and chief operating officer, Vagabond Vending, Washington, D.C.; Chris Hart, director of micro markets, Southern Refreshment Services, Tucker, Ga.; Amanda Sulc, director of category insights and strategy, Accent Food Services, Pflugerville, Texas; and Ashilyn Sunderman, vice president and Clarinda general manager, Smith Vending, a Canteen franchisee based in Clarinda, Ia.
Technology was the thread that ran through the various topics addressed, such as competitors offering new conveniences, the challenge of changing payment systems, the need to engage customers using social media, and new worksite amenities.
New Players Emerge

Technology is bringing new players to refreshment services. The most recent example is Amazon Go, a store that allows shoppers to enjoy the convenience of shopping without the need to stop and check out.
Shoppers scan themselves into the store using the free Amazon Go app, shop as normal, remove items from a store shelf, place items in a shopping bag and leave the store. The items are in turn billed to an authorized Amazon.com account accompanied by a detailed email receipt.
The technology records purchases based on shelf removal and placement into a specialized shopping bag. (Some vending machines on display at the OneShow demonstrated similar "intelligent shelf" capabilities.)
UberEATS was cited as another competitor to refreshment services providers. Consumers can order food online from restaurants and have it delivered in 30 minutes or less.
Both Amazon Go and UberEATS eliminate waiting in line at restaurants.
Vending, Micro Markets Have Leverage
While these innovations "raise the bar" for refreshment service providers since they represent new competitors, vending and micro markets still hold the unique advantage of offering products onsite. Jorquera noted vending machines and micro markets are already at the location, so they provide faster service and there is no delivery charge.
Hart said his company is partnering with a company similar to UberEATS that delivers food from restaurants to his micro markets. "Don't always see them as a competitor," Hart said. "They can be a partner."
Meeting The Payment Challenge

It didn't take long for the panel to address the challenging issue of what types of payments consumers want to use.
One challenge for service providers is knowing when they can remove cash acceptance. "Cash is never going to go away, but it's going to be less and less important as all of us become more comfortale with using our phones," said Jorquera.
People in the audience wanted to know if there are any statistics on how eliminating cash payment affects sales. Jorquera said there are no such statistics yet available.
Hart said his company has recently begun accepting payroll deduct, and it has increased sales. He wasn't able to say how much payroll deduct has raised sales because it's still fairly new.
Hart added that cashless accounts for 58 percent of micro market sales and 33 percent of vending sales. He said cashless delivers a 20 percent sales lift because customers are willing to buy more items using it.
Allahyar-Steiner noted that some restaurants in San Francisco have signs saying cash is not accepted.
Sulc said 60 percent of her company's sales are cashless.
As for mobile payment, the operators on the panel said they are accepting it, but they were unsure to what extent customers are embracing it.
Jorquera said mobile payment is more secure than card reader payment, and more private since no one but the user can see the transaction information. "From a convenience standpoint, it's a much better experience," Jorquera said.
The EMV cards that have replaced the swipe cards require the user to wait for authorization, which is a frustration for some. "With mobile payment, that frustrating experience goes away," Jorquera said.
"Venmo (a mobile payment service owned by PayPal) is PayPal for millennials," Jorquera added.
Hart pointed out that biometric payment is now available for both micro markets and vending machines. He said there is a need to educate customers how to use biometric payment devices. Some consumers are concerned about having their privacy violated by using fingerprint readers.
Serving Millennials

Given that millennial consumers are an important audience, the panel addressed several questions about millennials. One question was how to engage millennials using social media.
Hart said soliciting feedback on social media can invite negative feedback, but a company can turn the negative into a positive by responding to a complaint.
How influential are social media blog posts to millennials? Sulc and Allahyar-Steiner both said they read blogs about new products. But Allahyar-Steiner added: "If we feel it's a sales pitch, we ignore it."
When trying to engage customers on social media, the panelists agreed it's important to know what social media sites are reaching your audience.
The panel also considered the question: what type of work environment is important to a millennial? Based on the answers, it was evident that millennials are a most demanding audience for worksite service providers.
Jorquera said collaborative work spaces are common in many work sites, and millennials like having coffee and cold drinks available in these common areas.
Hart observed that break areas are a destination for millennials, and these areas should have Wi-Fi connectivity and recreational amenities like table tennis and foosball tables.
Food Safety Still Matters

With all the change that technology is bringing to the work place, is food safety no longer an issue? The question was asked by Larry Eils, a vending consultant and a longtime NAMA technical director.
Sulc said safety isn't top of mind for customers, but it is important that food packages contain safety information in addition to other information. Customers want to know a company's values.
Hart said safety isn't a concern until there is reason for concern.
Allahyar-Steiner added that she, as a consumer, has not returned to Chipotle Mexican Grill since the fast casual restaurant chain suffered E. coli outbreaks last year.
While the discussion covered many areas, one takeaway was that refreshment service operators have to pay close attention to a variety of influences affecting customer expectations. Today's customer has more options for getting their refreshments than ever, and meeting their expectations requires proactive engagement.
---

Vending Technology News | More News | Vending Newsletter sign up | Questions? Contact us | email press release |
Also see: Software Companies | Technology Companies | Micro Markets | Cashless Vending | Distributors | Classified Ads | Home |
VENDING YELLOW PAGES DIRECTORIES:
Call us at 1-800-956-8363 to POST YOUR COMPANY, or QUESTIONS?