Coca-Cola Upgrades Its Freestyle Self-Service Beverage Dispenser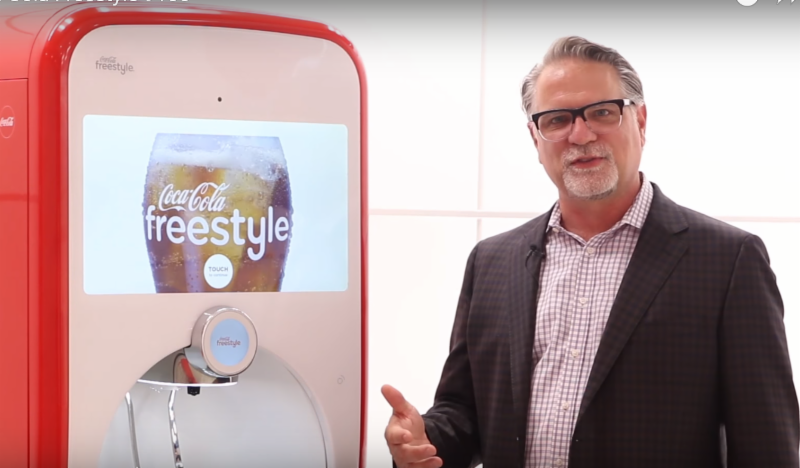 The Coca-Cola Co. displayed the newest iteration of its Freestyle self-serve machine, the Coca-Cola Freestyle 9100 at the National Restaurant Show in Chicago. The unit, which will be available nationally in 2019, features a 24-inch, high-definition touchscreen and Bluetooth connectivity, which lets fans connect to the Freestyle mobile app when they enter an outlet with a machine and cue up their favorite beverage or create a new mix
"We've built features into this dispenser that are not only contemporary for today," said Chris Hellmann, vice president and general manager, CocaCola Freestyle. "We've also future-proofed the platform with not-yet activated features like audio capability, optical sensors and a new equipment option that will eventually support the addition of drink categories not available on Freestyle today, such as teas, cold coffees and new varieties of juices."
A new, agile Coca-Cola Freestyle operating system includes a revamped touchscreen menu designed to make it easier and faster for users to find the beverages they want.
"Our brands are now presented in a way that's simple for consumers to navigate and find their favorite choice or try something new," Hellmann said. "We want consumers to have a fun, contemporary experience, whether they're on the go and want a drink with a meal, or have a few moments to explore something new."
In addition to the next-generation machine, the team plans to push the new Freestyle operating system to all dispensers in the market to deliver new benefits to existing customers, including access to a diagnostics dashboard with real-time drink inventory levels.
The new operating system integrates with the Coca-Cola Freestyle content management system (CMS) introduced last year. The system lets restaurants quickly launch exclusive Freestyle beverages – down to the recipe – and on-dispenser promotions.
For more information visit www.Coca-ColaCompany.com
---

Vending Technology News | More News | Vending Newsletter sign up | Questions? Contact us | email press release
Also see: Software Companies | Technology Companies | Micro Markets | Cashless Vending | Distributors | Classified Ads | Home |
VENDING YELLOW PAGES DIRECTORIES:
Call us at 1-800-956-8363, POST YOUR COMPANY