Chowbotics Makes Fresh Food Convenient for Everyone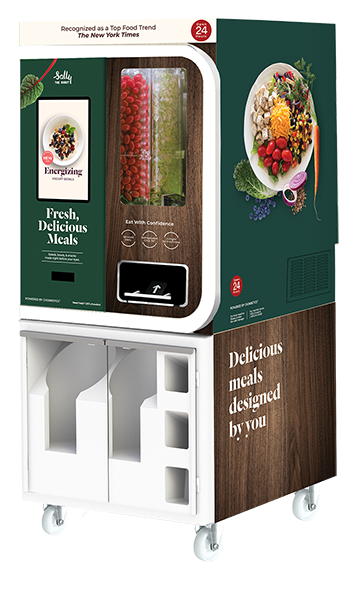 What do consumers do when it's 1:00 am and they are hungry? If the only thing that's open is a fast–food restaurant, they will order the food that the restaurant has to offer them. Thankfully, with Chowbotics, eating healthy is something that anyone can do 24-7 because Sally, their fresh food "robot" makes healthy food available anywhere the Chowbotics vending machine is placed. 
Not Just A Pre-Packaged Salad 
Consumers these days are accustomed to buying salads and grain bowls at convenience stores and supermarkets around the world but the reality is that those foods are far from fresh. Most pre-packaged salads available at supermarkets and convenience stores are often made days in advance. 
With the Chowbotics robot, consumers have the option of ordering the salad or grain bowl of their choice because all of the fresh ingredients are conveniently stored in Sally so that a consumer can purchase a salad, breakfast, healthy snack, grain bowl or ethnic cuisine at the touch of a button. 
What's great about Sally, the Chowbotics robot?  The foods this machine offers are also customizable, so that a consumer never has to worry about ordering the same boring thing every time. 
Salad – When it comes to ordering a salad, Sally enables consumers to have a delicious salad that also includes fruits, vegetables, and proteins. 
Breakfast – For consumers who are on the go and can't think of what they want to have for breakfast, Sally offers them yummy breakfast options including yogurt and grain bowls that are available at any time of the day or night. 
Ethnic Cuisine – Last of all, the Chowbotics robot also offers a mixture of healthy cuisine options including Mediterranean, Latin American and Indian food. 
Fits in A 3×3 Space 
For those business owners or stores that want to capitalize on the need for fresh, convenient food. Sally can fit in a 3×3 space and once the robot is connected to the Internet, the business owner will also be able to stay up today with how it's doing. This includes if any ingredients need to be reordered, current customer trends, best–selling dishes and time of day data all from the convenience of the Chowbotics online portal. 
Sally can also be easily moved to capitalize on live events in an area and take advantage of consumer demand for fresh food at those locations. 
Besides offering plenty of convenience for business owners and consumers, Sally, the fresh food robot, also comes with the capacity to serve 65 meals before the ingredients need to be replaced and with 38-degree refrigeration, Sally can run during the day or night without costing a business owner more money. 
Award–Winning 
In recent years, Chowbotics has been changing the foodservice industry as more corporations are seeing that they can leverage robotics to replace menial tasks without sacrificing food quality or freshness. 
The company has also received a wide variety of awards over the years including the 2019 Kitchen Innovation Award and they've been recognized as one of the world's 50 most innovative companies in the robotic sector by Fast Company. 
To learn more about Chowbotics visit their website at http://www.chowbotics.com/ 
---

 Vending Technology News | More News | Vending Newsletter sign up | Questions? Contact us | email press release
Also see: Software Companies | Technology Companies | Micro Markets | Cashless Vending | Distributors | Classified Ads | Routes for sale | Vending Companies USA | Home |
VENDING YELLOW PAGES DIRECTORIES:
Call us at 1-800-956-8363, POST YOUR COMPANY, GET NEW BUSINESS!