Byte Technology – A Vending Solution For Fresh Food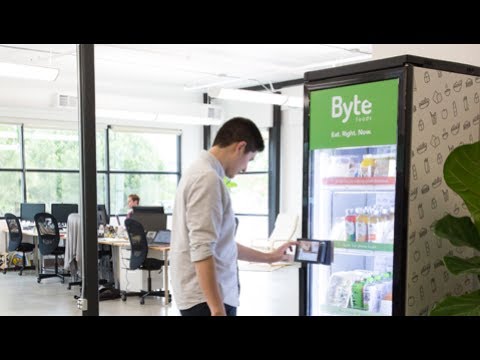 The demand for fresh meals is on the rise nationwide as more consumers want convenient access to fresh snacks, meals, and drinks 24-7-365.
How can operators offer their customers the fresh foods that they want without having to increase their labor costs and other expenses?
Purpose Built Cooler
Thankfully, Byte Technology offers a 'purpose built' cooler which is cost-effective, flexible, and enables operators to set up a small storefront which remains open 24-7.
Based in San Rafael California, the company offers more than just coolers, the Bye kiosk platform will also send real-time data to an online Byte dashboard. This makes it easy for operators to see real-time data and analytics that they can use to boost margins and optimize ROI.
Advanced Insights, Optimized Space
Besides offering operators a secure cooler that they can offer fresh foods and beverages anywhere, Byte also offers an analytics dashboard that easily integrates with your existing technologies, provides you with real time data and ultimate control so that you can get the most ROI from your cooler.
Convenient access to real-time data also means that operators can expand to larger locations and service the needs of more people without having to go into those locations 'blind' with the potential of wasting food or beverages.
Small Footprint, Big Impact
Besides offering operators a comprehensive platform that they can use to build robust businesses, the Byte Technology cooler also has a small footprint that enables operators to place their coolers anywhere there might be a demand for fresh foods or beverages.
Some of the most popular locations that Byte Technology coolers have been placed include hospitals, colleges, healthcare facilities, and other places of employment across the United States.
To learn more about Byte Technology, visit their website at https://bytetechnology.co.