Bevi Partners With Canteen To Offer High-Tech Beverage Cooler Nationwide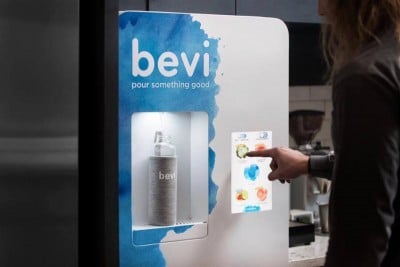 Bevi, a company that designs high-tech coolers for sparkling and flavored water, announced a distribution partnership with Canteen. The Bevi machine customizes still and sparkling water with unsweetened, zero-calorie or organically sweetened natural flavors. All machines are Internet-connected, with real-time data enabling proactive service and maintenance.
Bevi previously served hundreds of clients in New York, Boston, and San Francisco. With the Canteen partnership, Bevi is now available in all major metro areas in the continental United States.
"In 2016, Bevi's revenue grew by over one thousand percent and went from serving a handful of Boston tech companies to hydrating some of the most innovative companies in the world in several major cities," said Sean Grundy, Bevi co-founder and CEO. "The Canteen partnership brings us to a whole new level – this is the big leagues! We're really honored that the world leader in customer satisfaction and logistics for food service has chosen to work with us."
For more information: http://www.bevi.co/
---

Vending Technology News | More News | Vending Newsletter sign up | Questions? Contact us | email press release |
Also see: Software Companies | Technology Companies | Micro Markets | Cashless Vending | Distributors | Classified Ads | Home |
VENDING YELLOW PAGES DIRECTORIES:
Call us at 1-800-956-8363 to POST YOUR COMPANY, or QUESTIONS?