Azkoyen's DST Technology Enables Touchless Without Apps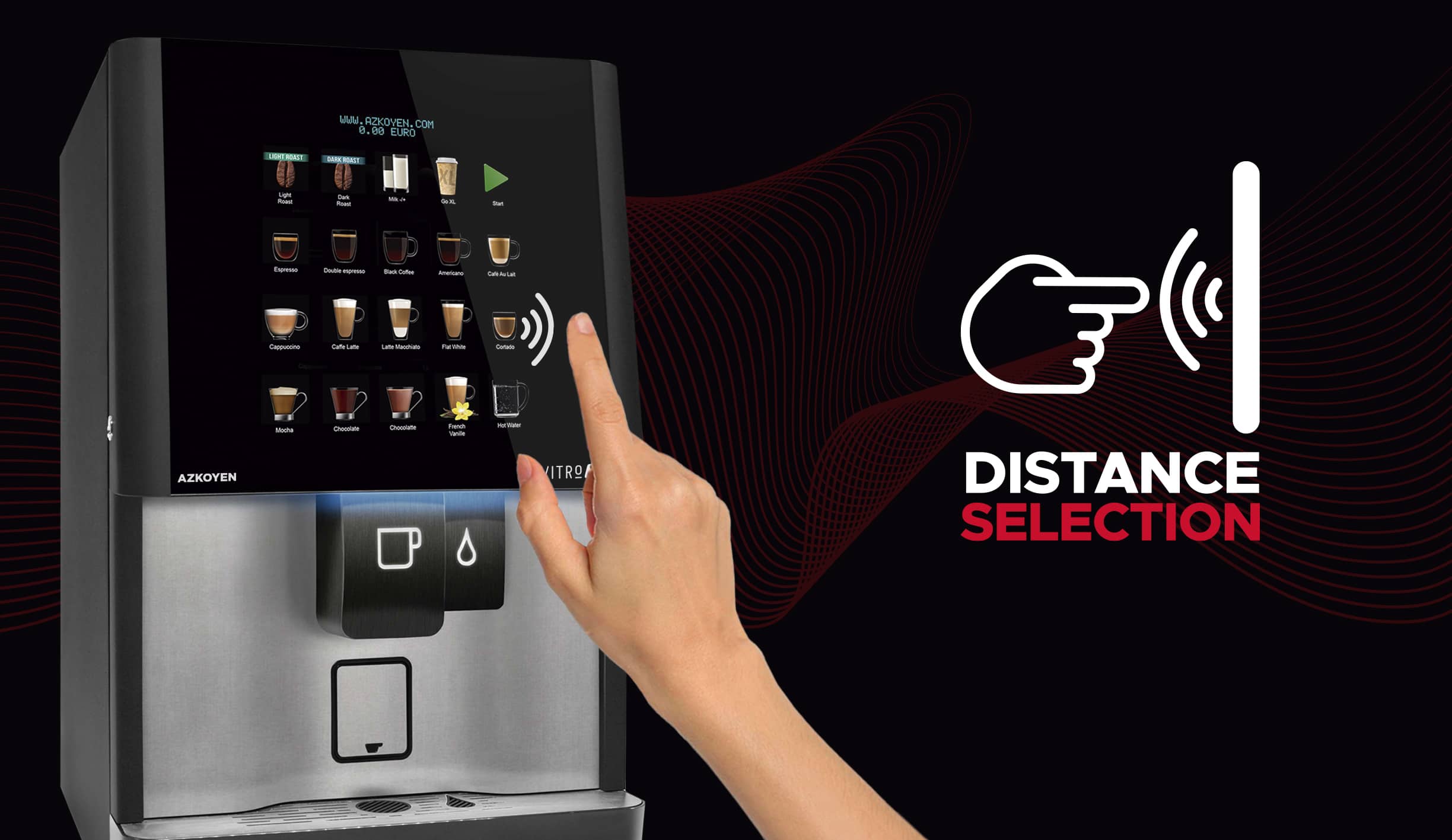 A new touchless technology which does not require the use of an app, stylus or other device for product selection and payment is being introduced to the North American vending market by the Azkoyen Group of Spain.  Azkoyen's Distance Selection Technology (DST) is available in Azkoyen's tabletop Vitro S5 and  X5 machines as well as the Zensia, Zen and Zintro full vending systems.  The company is exploring options of incorporating DST into machines other than hot beverage machines.  
Already available in Europe under the Coffetek and Azkoyen labels, the patented DST technology is different from other touchless technology in that it senses the purchaser's proximity to the machine to complete a transaction.  According to the company, all the consumer needs to do is hover his or her finger under an inch away from the selection pad for the machine to automatically recognize the purchase.  Touchless payment options are also available.   The only machine contact by the consumer is at the product delivery door.   Azkoyen said the technology eliminates delays and bottlenecks which might be encountered in other touchless transactions. 
Azkoyen's machines are compatible with a wide range of cashless systems including contactless cards. 
The company says the new health and safety measures can be used by OCS and vending operators as a means of preventing and reducing the risk of transmission of bacteria and viruses such as Covid-19. 
"No touch is the new reality," said Tino Salcedo, USA sales director for Azkoyen.  "DST provides a simple touchless, frictionless coffee experience that will redefine the way we all interact with coffee and vending equipment as we manage to work our way through the next new normal."   

"Distance Selection is a standard retrofittable and proven hygiene management system for Azkoyen automatic machines," Salcedo said.  "It provides security and confidence for consumers and for locations to start using vending machines again.  The technology aligns with the 'Return to Work' safety policies which can become a good point of sale when maintaining or entering new vending locations," he added. 
For the consumer the DST technology provides a touch of sophistication and fun to the vending purchase.  "it allows the consumer to enjoy and indulge with the best selection of coffee and hot beverages safely," Salcedo said.   
Azkoyen Group S.A. specializes in the design, manufacture and marketing of technological solutions for electronic means of payment, control and security systems, mechatronic solutions and vending machines. The Group consists of three main divisions: Coffee & Vending Division, with the brands Azkoyen and Coffetek; Payment Technologies Division with the brands Coges, Azkoyen Payment Technologies and Cashlogy; and Time & Security with the primion, GET and Digitek brands and the Opertis brand for associated mechatronic solutions. 
For more information about Azkoyen's DST technology, go to https://www.azkoyenvending.com/ , email vending@azkoyen.com
---

 Vending Technology News | More News | Vending Newsletter sign up | Questions? Contact us | SUBMIT PRESS RELEASE
Also see: Software Companies | Technology Companies | Micro Markets | Cashless Vending Solutions | Distributors | Classified Ads | Routes for sale | Vending Companies USA | Home |
VENDING YELLOW PAGES DIRECTORIES:
Call us at 1-800-956-8363, POST YOUR COMPANY, GET NEW BUSINESS!