Avanti Markets Introduces New Kiosk Option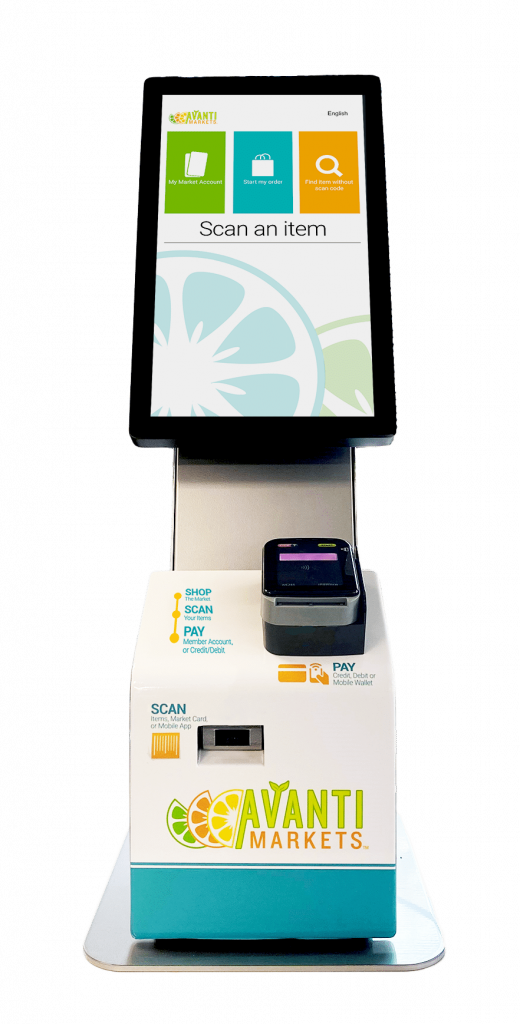 New Auxiliary Kiosk provides more flexibility for market operators and host locations. Renton, WA-May 6, 2021: Avanti Markets recently announced a new kiosk option for its micro market Operators. The new Auxiliary Kiosk with a 15" monitor adds flexibility to a market operator's portfolio of technology options, perfect for small markets or as a line-buster at busy markets. The kiosk will also have remote ordering capabilities coming later this year for use with Avanti Markets' SimpliGet remote ordering solution.
The Auxiliary Kiosk can be mounted to countertops, on a wall, or used with an optional floor stand for a freestanding kiosk. It will work with the Avanti Markets System, which is the familiar interface for all Avanti Markets kiosks. At 31" tall and 11.5" wide, this kiosk is the smallest of the Avanti Markets kiosk offerings.

"With the new Auxiliary Kiosk, our Operators can continue to expand their micro market footprints by accessing smaller locations or adding an additional payment station to busy markets", said John Reilly, president of Avanti Markets. "With demand for convenient, contactless shopping continuing to increase, we felt we could help meet the demand with this new hardware option."

The Auxiliary Kiosk is the first new kiosk option since Avanti Markets introduced the current versions of the Executive and Enterprise kiosks in 2017. The kiosk can be set up with either a wired or wireless internet connection.

As with other Avanti kiosk options, the Auxiliary kiosk can perform touchless transactions, with users scanning their items to purchase, and then remitting payment by scanning their market card or mobile app barcode, or using a tap or swipe to pay option with any major credit or debit card.
The Auxiliary Kiosk is now available to Avanti Markets Operators on the equipment orders site with bulk-purchase discounts available. Non-Avanti operators can contact Avanti Markets to be setup with the system.
ABOUT AVANTI MARKETS INC.
In 2009, Avanti Markets was founded by an operator who pioneered the micro market industry. Today we are a technology company focused on unattended retail that extends well beyond the original micro market while continuing to lead in the micro market industry. Our Avanti Markets'
transaction system is trusted by hundreds of market operators as the leading-edge micro market platform to build and grow their business.

For more information visit https://avantimarkets.com