Astro Vending Teams With Vendwatch On Telemetry-Based Prekitting Basket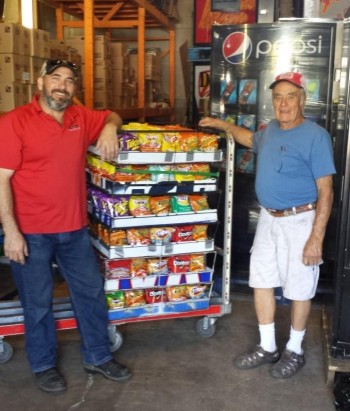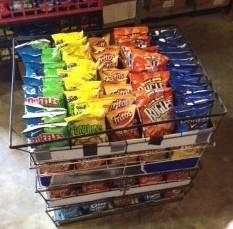 Astro Vending, a 2-route operation based in Laredo, Texas, has developed a novel basket that combined with telemetry creates a powerful pre-kitting tool. Working in partnership with Vendwatch Telematics, Randy Abdallah, Astro Vending's vice president, plans to use the basket to match deliveries with machine service requirements. The solution will reduce service visits, improve sales and boost profitability.
Randy's father, Ray Abdallah, developed the baskets to hold just enough products to fill snack trays. The baskets, pre-filled in the warehouse, make it easy to control the product once it leaves the warehouse. The driver returns the basket to the warehouse where it gets refilled for the next delivery.
The baskets hold five SKUs, each correlating to a machine spiral. There are six baskets per snack machine. One of the biggest benefits of the baskets is they reduce product handling. http://www.astrovending.com -Phone: 956-723-1807.
The Vendwatch Telematics space-to-sales optimization tool will allow service to be scheduled based on machine need.
"Once everything's in place, we'll be able to monitor the machines and find out how many baskets we need to load for how many machines," Abdallah says.
"It's a pre-kitting solution that works with their current system instead of an expensive replacement," says Mark McAuley, sales director at Vendwatch Telematics. "We're supporting his baskets with recommendations to the amount. We know how much each machine sold. We can tell him how many baskets they need to produce for that next day's deliveries."
"You refill each row with what's in the basket," McAuley says. "I haven't seen anyone else do anything exactly like this. It's going to be pretty efficient all the way around. Having those baskets ready to go like that just saves his route driver so much time." A driver can take six baskets on a dolly at a time to the machine.
McAuley thinks the baskets, in combination with telemetry, can be a cost effective solution for small and medium size operators. The cellular telemetry device will transmit the sold out amounts in the machine the night before the delivery is scheduled.
"We can balance the product mix so that everything is selling out at the same time," McAuley says.
The Abdallahs have used vending management software in the past, but they were not satisfied with the sales forecasting from their previous software vendor. They reconciled cash to collections by having the driver manually input the meter readings into the handheld.
They believe telemetry will provide timely, accurate line-item sales data.
Astro Vending has already installed the Vendwatch Telematics service at six machines at one location. Abdallah is also currently using the service to receive service alerts and error codes in real-time. "If there's a power outage, I'll get a phone call or a text," says Abdallah. In the case of a power outage in a frozen machine, the system will save Abdallah a $300 service call.
"If somebody's opening a machine and they're not supposed to be there that day, it'll send an alert," he notes.
"It's going to tell us what they're buying," Abdallah says of the telemetry. "We'll change the menu according to what they're buying. That'll lessen our service trips." He will know which products to assign double facings.
"Vendwatch is going to manage the meters and track a lot better than we can," Abdallah says. "The numbers should match the money coming back. It takes all the guesswork out of it."
"We want the machine to communicate with the network and allow the driver to manage the route and the machine, and to clean the machine and make sure it's working," Abdallah says. "We want to take the bean counting away from them and let them do their job."
Vendwatch Telematics offers services that include real-time telemetry from machines, cashless payment solutions, and route planning applications for smart phone devices. These solutions can scale properly to fit any sized operation. "Between the two of us, we create a perfect pre-kitting solution for smaller operators," McAuley says.
Astro Vending will also be expanding into cashless vending using the Vendwatch VM Pay product. His customers have already responded to the convenience of payments with credit cards, Apple Pay and Google Wallet. "Net sales are up and Astro is seeing consumers purchasing multiple products at one visit to a machine." says McAuley.
Ray Abdallah developed the baskets by trial and error, beginning with plastic and ending up with round bar. The baskets stack on top of each other. The company has a patent pending on the basket.
For more information go to: http://vendwatchtelematics.com.

by Elliot Maras
---

| Home | Vending Technology News | More News | Vending Newsletter sign up | Questions? Contact us | email press release |



Also see: Software Companies | Technology Companies | Micro Markets | Vending Classified Ads |
VENDING YELLOW PAGES DIRECTORIES:
Call us at 1-800-956-8363 to POST YOUR COMPANY, or QUESTIONS?