Alio, Cashless Solutions for Unattended Retail  by CPI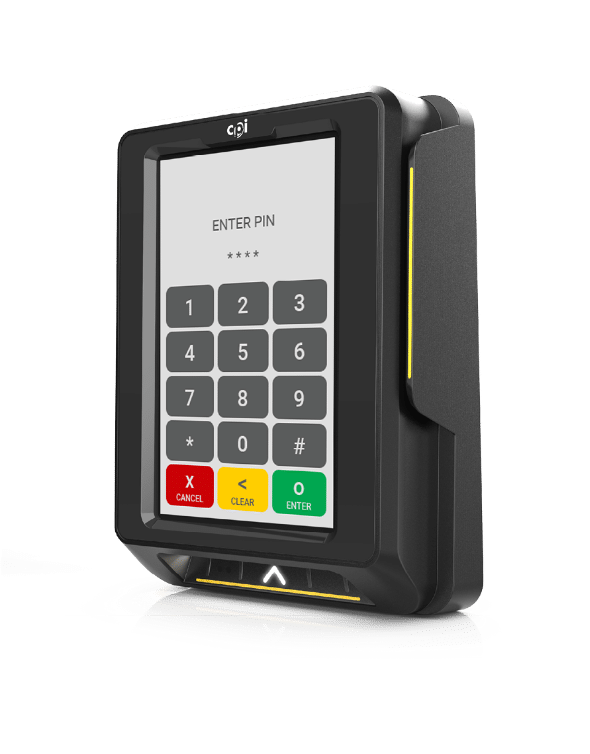 Are you offering cashless payment solutions your unattended retail clients? If not, you should consider utilizing Alio, the latest solution by CPI.
Used on more than 700,000 cashless payment terminals worldwide, CPI offers an ideal cashless payment solution that features a PIN pad, contactless reader, and screen.
Alio is a payment solution that accepts all forms of electronic payments, including swipe, mobile and contactless, virtually guaranteeing that your vending or micro market customers don't walk away without being able to pay for their items with their preferred payment method.
Large Touchscreen With Flexible User Interface
Besides accepting payment, today's cashless payment solutions also must have the ability to customize user content so that operators can offer their customers a unique experience.
Thanks to Alio, operators can offer their customers more than just a device that accepts their form of payment. This machine is branded and with its UI, operators can customize/brand content regardless of their business.
Made by CPI, one of the most well-known, and trusted companies in the payment industry, business owners can have peace of mind in knowing that Alio is ready for anything, including high-value transactions.
Ideal For Most Industries
With more than 50 years of experience in the payment industry, CPI has created a robust cashless payment solution that can be used in most industries including vending, micro-markets, car wash, casino gaming, laundromats, off-street parking, and more.
Alio is also different than other cashless payment solutions in the industry because it has a rugged casing and protecting 'Gorilla Glass', that protects it from vandalism and daily wear/tear.
Since most business owners, especially those that have unattended retail businesses and are connected to the cloud in 2021, CPI has also created their cashless payment solution to be integrated with the cloud, so that it can be managed from anywhere in the world.
To learn more about Alio, by CPI, visit their website at https://www.cranepi.com.