Airsled Adds Variable Speed Option To Its Vending Moving System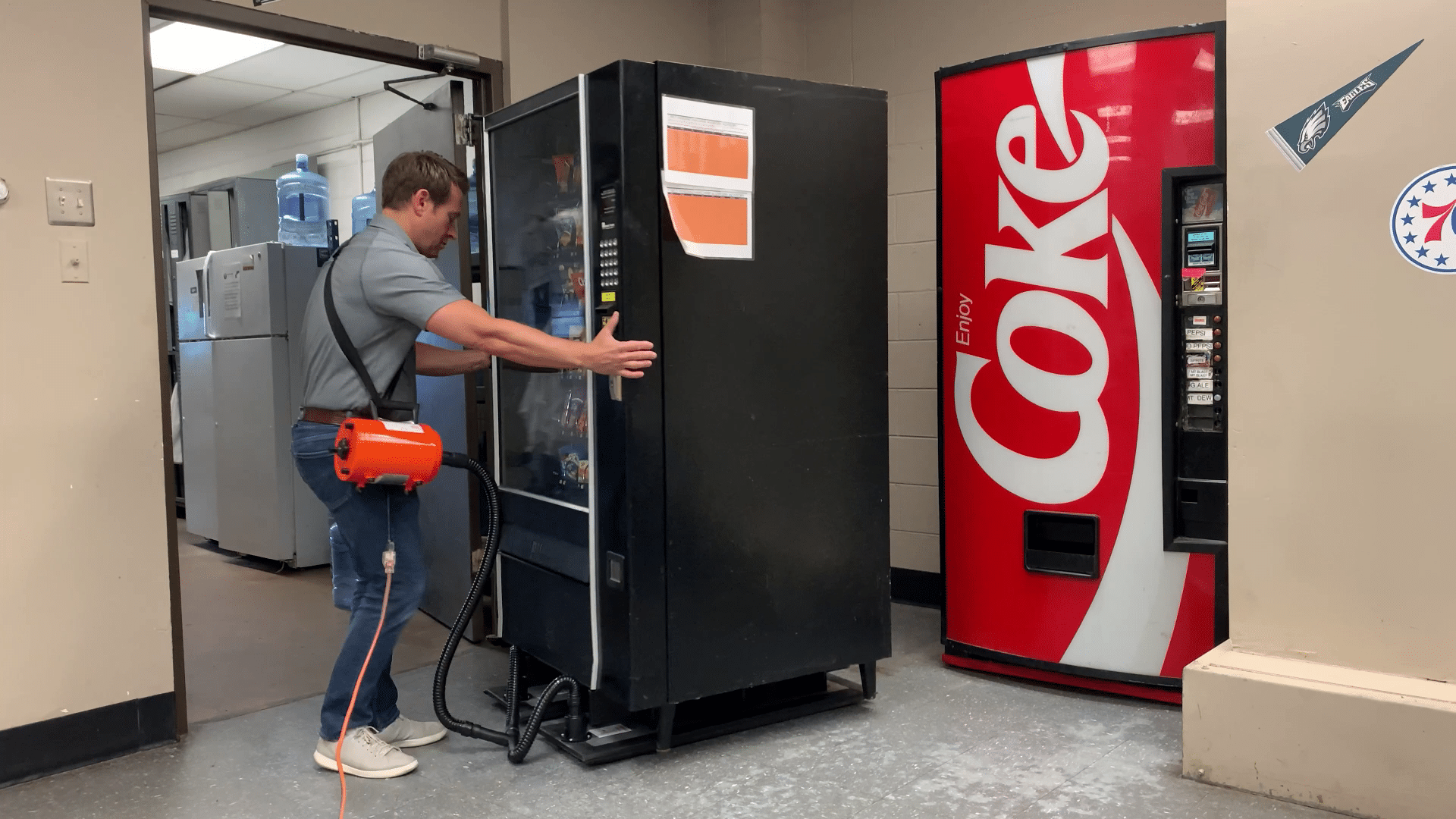 Acting on input from vending operators and other customers, Airsled has added a variable speed option to its air dolly moving systems.  The company says the variable speed option makes it easier for operators to maneuver machines into and out of tighter spaces which are becoming more common in today's micro market and other confined vending environments.  
As seen in photo:  A technician with the Airsled Model VM2400-VS variable speed blower over his shoulder uses the equipment moving device to position a snack machine and a beverage machine in a company breakroom.  Air beams are inserted under the machine and inflated by the blower to slide machines over smooth surfaces.  Adapters are available to move machines over rough surfaces such as carpet. 
While the original Airsleds are operated with a toggle switch which instantly lifts the load up to two inches off the ground, the new units are controlled by a dial which the user turns to regulate air flow into the air beams.  The regulation enables an operator to control height and lift the load gradually to a desired level.  Airsled says controlling height enables easy clearance in spaces with tight vertical clearance.  
The company has produced two videos to demonstrate how the Airsleds work.  The best way to illustrate performance is by viewing a video of an Airsled variable speed system moving appliances installed in very tight cavities. Another video shows Airsled's variable speed vending mover moving vending machines in a traditional breakroom setting. 
The new option expands Airsled's vending offerings to four units, two with the traditional blowers and the others with the variable speed blowers.  All of the vending machine dollies can lift up to 1,400 pounds.  Models VM2400 and 2401 are single speed blowers, models VM2400-VS and VM2401-VS are variable speed blowers. Models with the "01" designation have slightly larger blowers that quickly convert to vacuum cleaners to conveniently clean dust and other debris.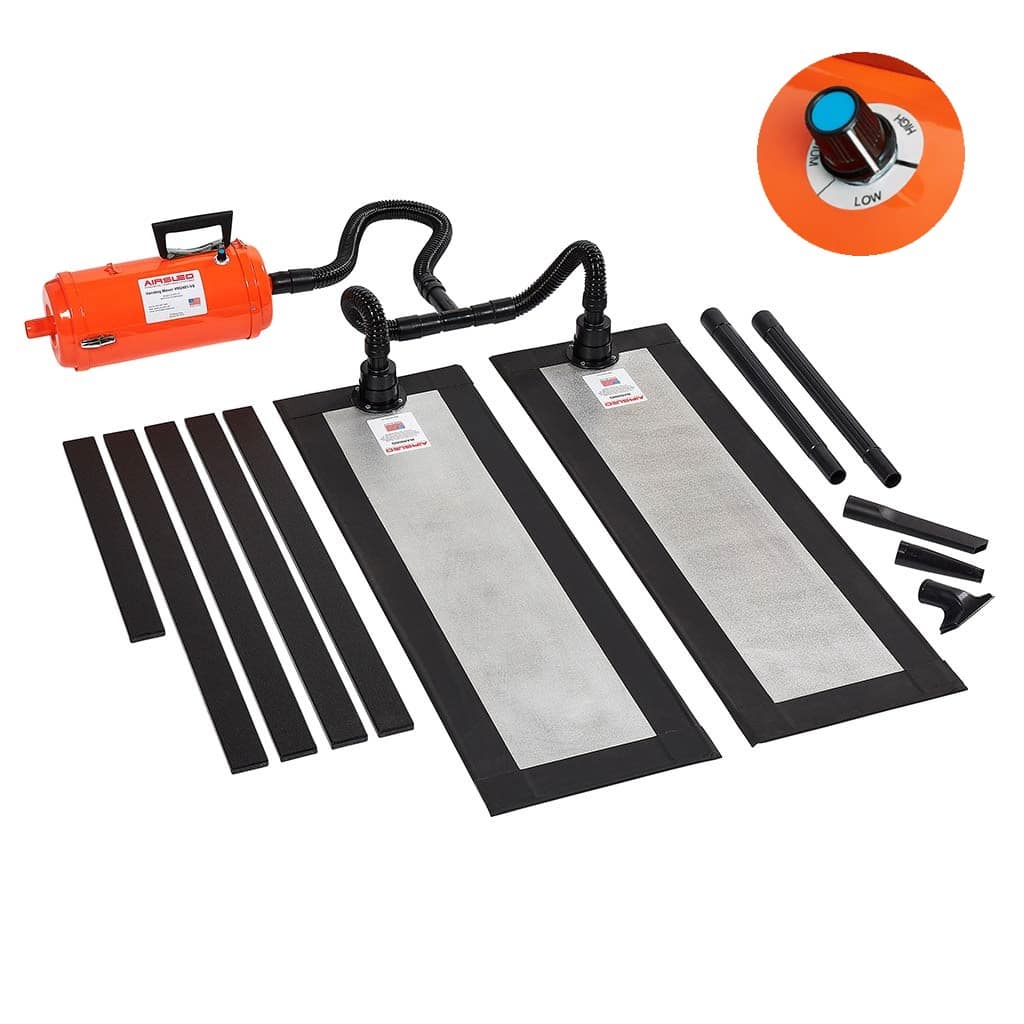 Pricing ranges from $969.99 to $1,029.99 depending on model options.  
As seen is this photo: Two Airsled models feature a dial (highlighted) for variable speed, while the other two models are operated by a toggle switch.
The Airsled load movement solution is based on low-pressure, air film technology.  The technology consists of 3/16" thick aluminum air beams which are placed under the machine and then filled with air from a blower carried by the operator.  Power is from any grounded outlet and extension cord.  The filled beams lift the load and evenly distribute weight, enabling the operator to slide the load over non-porous smooth surfaces into its new spot with no floor damage.   
A spacer kit is available for loads such as some refrigeration units which sit on raised legs.  Adapters are available to move machines over rough surfaces such as carpet. 
The standard vending mover air beams are 12 inches wide x 39 inches long and are recommended for loads whose base does not exceed 33 inches deep. If dealing with a load greater than 33 inches deep or requiring rotating the load 90 degrees to pass through a narrow opening, Airsled offers a set of 10 inch wide x 48 inch long side access air beams. 
Founded in 1982, Airsled is the original inventor of portable, light-weight load movement systems based on low-pressure, air film technology.  All products are made in the USA at its Newark, DE facility using materials and components sourced from US-based suppliers.  
Airsled makes a wide range of standard and custom products and sells products globally. In the US, customers can buy Airsled products through the company's website www.airsled.com and on Amazon. 
For more information go to www.airsled.com or email airsled@airsled.com, where you can also browse the many videos and see Airsled systems in action. 
---

 Vending Technology News | More News | Vending Newsletter sign up | Questions? Contact us | SUBMIT PRESS RELEASE
Also see: Software Companies | Technology Companies | Micro Markets | Cashless Vending Solutions | Distributors | Classified Ads | Routes for sale | Vending Companies USA | VendLoco Lists | Home |
VENDING YELLOW PAGES DIRECTORIES:
Call us at 1-800-956-8363, POST YOUR COMPANY, GET NEW BUSINESS!