Air Pump Vending! Service Station Vending Equipment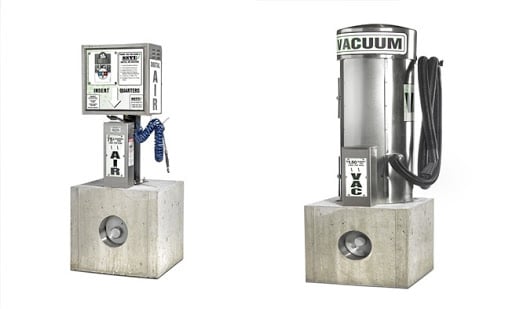 If you own a vehicle, you know that there have been days when you need to add air to your tires or vacuum out your vehicle asap. 
Service Station Vending Equipment offers new air or gas station vacuum vending equipment that accepts cash, coin, and most payment methods including credit, debit, and Apple Pay. 
While auto-related businesses appear to be the traditional location for this type of equipment, vending operators have new opportunities to install pay air pumps and vacuums in non-traditional areas, such as in facility parking lots, on college campuses and other locations.
The Next Big Thing?
Service Station's air pumps have been around for decades but in recent years they've only started to become modernized as gas stations have been upgrading their equipment to reliable machines that also accept credit, debit, and other payment methods.
This New York-based company has been providing equipment to service stations across the United States for over 30 years. They have a superior commitment to quality and offer the highest quality equipment to their clients, plus you can also count on them for 24-7 customer service and support.
Not Just Customers, Partners 

What's ideal about choosing Service Station Vending Equipment for equipment like air pumps and vacuums is that they view the businesses that choose them not as just customers but as business partners.
Air pumps and or automotive vacuums can be placed almost anywhere in today's convenience environments. The company has successfully placed its equipment in a variety of industries including automotive repair shops, convenience stores, auto rental outlets, transportation parking lots, and strip malls.
To learn more about Service Station Vending Equipment, visit their website at www.airusa1.com, email billmccabe@airusa1.com.