365 Retail Markets Offers Connected Campus Global Market Account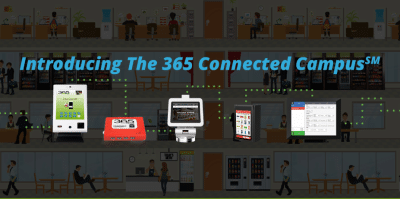 365 Retail Markets introduced its new Connected Campus which connects micro market, OCS, vending and dining products with one Global Market Account (GMA) to create a fully integrated consumer experience in the workplace.
"Our success in micro markets gave 365 a view of the marketplace from a unique lens," said Joe Hessling, CEO of 365 Retail Markets.
"It allowed us to see what the consumer wanted, what the operators wanted and what the host company wanted. The Connected Campus is a culmination of that experience. It can combine ease of use for the end user, aggregate the operational and support function for the operator, and packages it in one place for the host companies."
GMA allows customers to check out at any 365 micro market, nanomarket, vending or dining solution, all while only having to manage one account.
Benefits include:

⦁ The Connected Campus can use all 365 devices, whether they're in the same building or across the country.
⦁ GMA eliminates the 7 MicroMarket MSL since all micro markets will be linked together.
⦁ The 365Pay app allows customers to add funds to their Global Market Account.
⦁ Account balance liabilities are eliminated since 365 will manage all GMA funds.
The Connected Campus, along with the 365Pay app, is available now.
For more information visit: https://365retailmarkets.com/
---

Vending Technology News | More News | Vending Newsletter sign up | Questions? Contact us | email press release |
Also see: Software Companies | Technology Companies | Micro Markets | Cashless Vending | Distributors | Classified Ads | Home |
VENDING YELLOW PAGES DIRECTORIES:
Call us at 1-800-956-8363 to POST YOUR COMPANY, or QUESTIONS?