Virtual Rabbids Sets Sail with a Shorter Sibling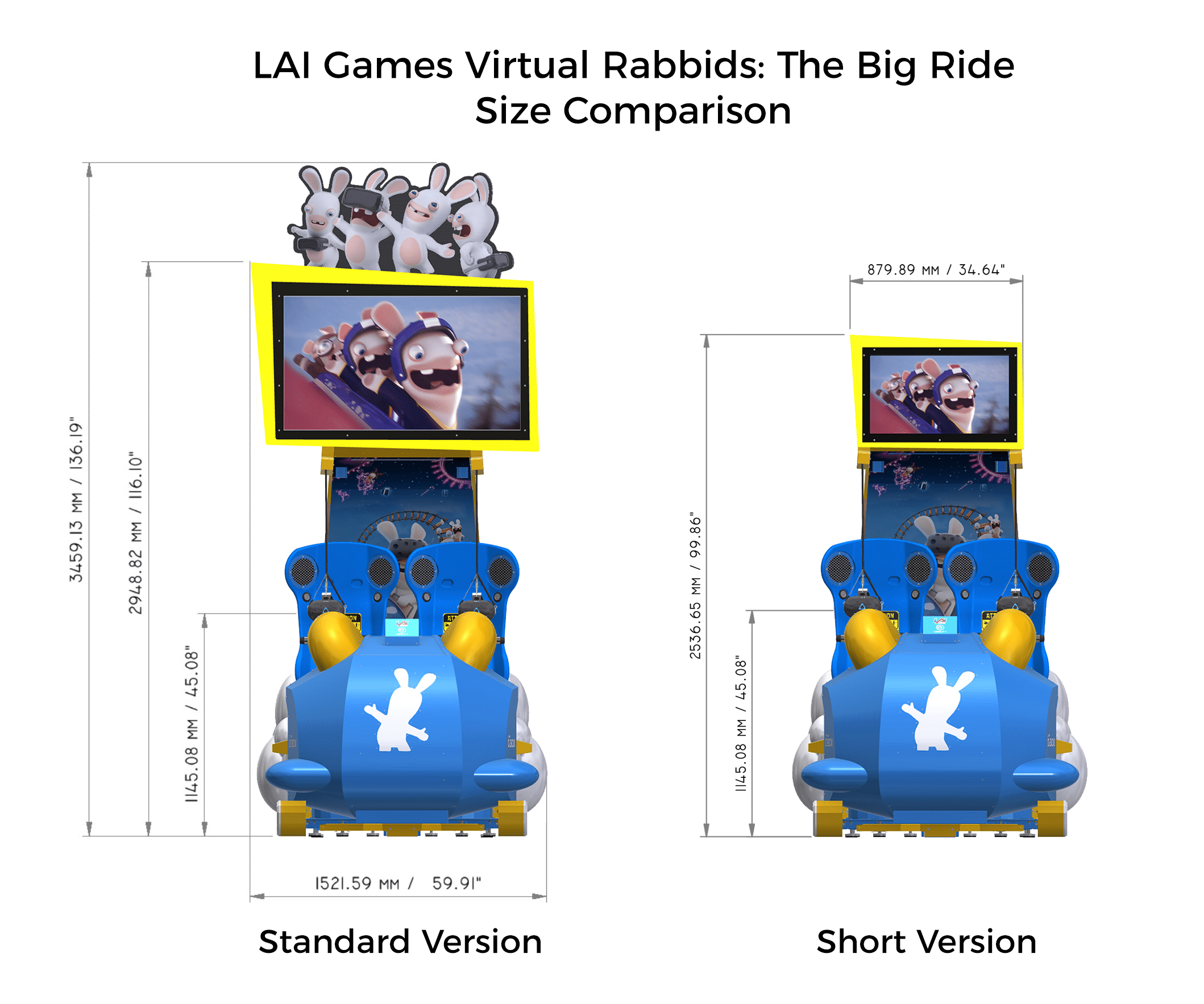 Dallas, August 1, 2018 – LAI Games is bringing its award-winning VR to even more locations. The company now offers a new, shorter version of their hit Virtual Rabbids: The Big Ride that is suitable for cruise ships and other locations where there are height restrictions. The new model is nearly identical to the original, with the only differences being a smaller video screen and the absence of the top marquee and side headers.
The height of the smaller unit is 99.9 inches (254cm), a full 36 inches (91cm) shorter than the original. Although it can currently be found on the NCL ship Norwegian Bliss and is coming soon to Carnival Cruise Lines, it is suitable for all types of  venues where ceiling height will not accommodate the standard version of Virtual Rabbids.
Virtual Rabbids: The Big Ride is the industry's first attendant-free VR attraction that operates and is serviced like any other coin-op amusement game. It was created in partnership with pioneering video game developer Ubisoft and features the global powerhouse Rabbids brand in three thrilling experiences suitable for all ages.
For more information visit www.laigames.com/virtual-rabbids, or contact your local distributor.
About LAI Games
LAI Games, a subsidiary of Helix Leisure, has been a leader in the interactive entertainment and game
industry for over 60 years. The company develops, manufactures, and sells coin and card operated prize
merchandising games, ticket redemption games, photo booths, and video and novelty games. LAI Games
is dedicated to bringing innovative and high incoming-producing games to the global market. For more
information, please visit www.LAIGames.com.
Follow Helix Leisure on LinkedIn for more updates: https://www.linkedin.com/company/helixleisure
---

Home | Vending Technology News | More News | Vending Newsletter sign up | Questions? Contact us | email press release
Call us at 1-800-956-8363 or POST YOUR COMPANY